A new report,
Sea-Level Rise and Coastal Habitats of the Chesapeake Bay
, shows in vivid detail the dramatic effects of sea-level rise on the largest estuary in the US, which sustains more than 3,600 species of plants, fish and animals including great blue herons and sea turtles.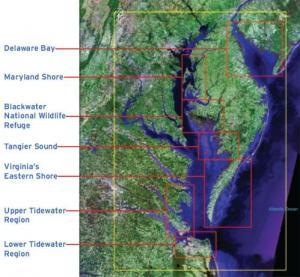 ©National Wildlife Federation
Habitats of the Chesapeake Bay at risk from sea level rise.
If global warming continues unabated, projected rising sea levels will significantly reshape the region's coastal landscape, threatening waterfowl hunting and recreational saltwater fishing in Virginia and Maryland, according to the report by the National Wildlife Federation.
Habitats at Risk
Coastal habitats in the Chesapeake Bay region, near Washington D.C., will be dramatically altered if sea levels rise globally about two feet by the end of the century, which is at the low end of what is predicted if global warming pollution remains unaddressed.
Under this scenario, the region would lose:
* More than 167,000 acres of undeveloped dry land
* 58% of beaches along ocean coasts
* 69% of estuarine beaches along the bay
* 161,000 acres of brackish marsh
* More than half of the region's important tidal swamp
These important wetland habitats would be replaced in part by over 266,000 acres (415.6 square miles) of newly open water and 50,000 acres of saltmarsh.
Wildlife At Risk
The Chesapeake Bay provides critical stopover and wintering habitat for more than one million migratory waterfowl, including the canvasback, mallard, redhead, American black duck, tundra swan, and Canada goose. The bay's coastal marshes are home to great blue heron, snowy egret, and other familiar birds, and they provide important food sources and nesting sites for numerous songbirds, mammals, reptiles, and amphibians.
The region's beaches support some of the largest populations of shorebirds in the western hemisphere such as red knot and piping plover, and are a critical nesting site for sea turtles.
And, of course, the Chesapeake Bay sustains recreational and commercial fisheries worth billions of dollars annually, including popular blue crab, rockfish, menhaden, and eastern oyster.
A twelve page summary of the report is available
HERE
.
The full technical report is available
HERE
.