Tens of thousands of animals have been trapped under a blanket of deadly ash in the aftermath of a volcanic eruption in southern Chile.
The long-dormant
Chaitén volcano began spewing an enormous plume of ash
visible from space and scattered debris over towns and villages on May 2.
Residents within a 30-mile (50-kilometer) radius of the volcano were forced to evacuate the area, which includes Chaitén - the town nearest the volcano - as well as the Futaleufú Valley, a rural zone populated largely by small farmers.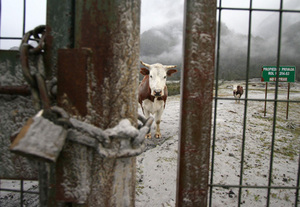 ©AP Photo/Mario Mendoza
Abandoned cattle are seen under a plume of smoke from the nearby Chaitén volcano on May 6, 2008.

Many small farmers were forced to leave their livestock behind as the volcano - which erupted May 2 - continued to spew fiery debris.

On Thursday the Chilean government announced a plan to evacuate the animals, the only source of income for many local residents.
On Thursday
explosions of fiery rocks spewed from the mountain
, spurring authorities to remove 130 holdouts from the region.
The holdouts were mostly farmers who would not leave their livestock behind, the Associated Press reported.
Also on Thursday officials from Chile's agriculture ministry informed National Geographic News that an estimated 15,331 head of cattle, 12,828 sheep, and 957 horses have been targeted for evacuation.
"These statistics are dynamic and could change according to new events that we are monitoring from the ground and satellite images," said a ministry official who is not authorized to speak to the press.
On Wednesday teams of veterinarians were dispatched to the area to help ranchers struggling to save their livestock, according to Chile's agriculture minister, Marigen Hornkohl.
Hornkohl promised support for farmers, including debt cancellation, evacuation support, and feedstock and medical supplies, an official bulletin said.
(See
photos of animals and farms affected by the volcano
.)
Agriculture officials reported that a thousand farmers live in the three communities - Palena, Futaleufú, and Chaitén - that were most impacted by the eruption.
Local residents fleeing Futaleufú told of poor farmers' desperation.
Mitch Sasser, a U.S. citizen and adventure-travel guide who lives in the Futaleufú Valley, evacuated his family three days after the eruption.
"I know individuals still in Futaleufú who are holding on to the hope of saving their animals," Sasser said.
"But I was already seeing dead cattle on the roads. There is no saving those animals that were pasturing in open fields."
Abandoned cows in Chaitén were seen nibbling at ash-covered foliage, Reuters reported. The soil appeared hard, with a cement-like consistency, the agency said.
Hardy Dorner Hausdorf directs a livestock association based in the evacuated town of Puerto Montt.
"Small farmers that have 5 to 50 cows are the most affected," he said.
"For them, these animals were the only source of income. If they don't have livestock, they don't have a way to survive."
A team of veterinarians on Wednesday flew by military plane into Chaitén to help pets left in homes.
Macarena Zanelli, head of veterinary medicine at the University of Saint Thomas in Puerto Montt, told National Geographic News in a telephone interview that she and her colleagues were the only people allowed into the abandoned town.
"We went from house to house trying to feed animals and get them out," Zanelli said.
"We put them in a gym so we could give them food and medicine. But we don't know if we can return, so the problem is they will start to die of starvation."
Toxic Ash?
Luis Lara, a volcanologist at Sernageomin, Chile's state geological and mining service, said authorities are still trying to map the extent of the damage to people and animals.
While dangerous, the volcanic ash itself may not be toxic, he added.
(See an interactive feature on
how volcanoes erupt
.)
"The main complication is that the ash consists of tiny particles that embed inside respiratory systems of animals and people."
Others worry about impacts on the soil in this highly agricultural region. The more ash cover, the more severe the impact on the soil, Lara said.
"Those areas with only a few centimeters might recuperate rapidly," he said, adding that the valley of Futaleufú, for example, has received about 12 inches (20 centimeters) of ash.
"We don't have antecedents to estimate the speed of the recovery in a case like this."
The closest comparable case is Mount Hudson, which erupted in southern Chile in 1991. Ash blanketed Chile, Argentina, and the south Atlantic Ocean.
But Lara said in that case many areas recuperated and that the breakdown of volcanic ash actually made soil more fertile.
Just the Beginning
Simon Carn is a volcanologist at the University of Maryland.
"The important thing to note about the Chaitén eruption is that the activity we have seen to date could only be the beginning of a long period of activity or the prelude to a larger eruption," he said.
(See
photos of past eruptions around the world
.)
"It is hard to predict what will happen at a volcano like Chaitén that hasn't erupted for millennia."
Meanwhile, some residents are planning for the unexpected.
Sasser, a swift-water rescue instructor who leads a local rescue team, says he is preparing for problems that may come with seasonal rains.
"The ash-covered ground won't permit rain to absorb into the soil, and that means high potential for flooding," he said.
"We are preparing contingency plans for flood rescue, road cuts, and debris flows. The surface area is nothing like what the people here are used to."
Jon Clark, a U.S. citizen who lives in the affected zone, has already set up a relief fund to provide some of the evacuated residents with supplies, shelter, and other resources.
"This event has the potential to permanently displace the valley residents, leaving them to begin their lives from scratch in a foreign land," he said in an email.
"I am afraid that life as we knew it in Futaleufú, as of last Friday, will never be the same."