For five miles they stretched along the beaches, a gruesome line of dead starfish.
Fishermen and bird-watchers at Pegwell Bay near Sandwich, Kent, discovered a "carpet" of thousands of the creatures lying on the sand just above the water line.
And on the beach at nearby Sandwich Bay, thousands more were photographed by Tony Flashman.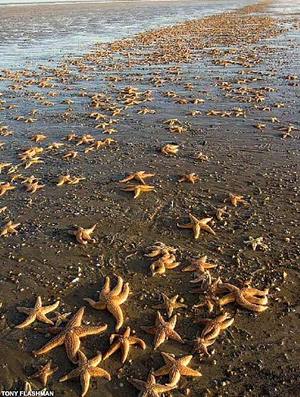 Thousands of dead starfish have been washed up on the Kent coastline after they ventured into shallow waters because there was a shortage of mussels
"The dead starfish stretched as far as you could see in both directions," said Mr Flashman, of Kingsdown, Deal.
Environment Agency officials are investigating what could have killed the starfish, which had been feeding on mussel beds.
They do not believe the deaths were linked to the recent storms because they were first reported to them last week.
They have also ruled out pollution or anything to do with climate change as the cause.
The agency said officials would investigate if the starfish were discarded by fishermen after the mussel beds were dredged.
A spokesman said: "Starfish congregate in vast numbers in some areas and feed on shellfish, so if the seabed was dredged then the starfish would inevitably have been caught in huge numbers."
Another theory is that the starfish had run out of mussels to eat and had moved into shallow water in the search for food.
The starfish bodies are not harmful and will probably be eaten by seagulls, the agency said.