Water supplies resumed on Wednesday to almost 200,000 people along the three tributaries of Hanjiang river affected by an algae bloom, local authorities of central China's Hubei Province said.
The algae bloom had turned the water red since Sunday, forcing authorities to cut supplies to nearby residents and eight schools.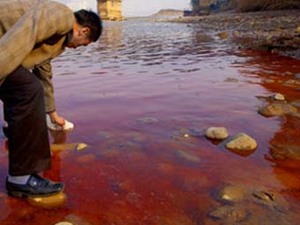 ©chinadaily.com.cn
Five water companies in Qianjiang City resumed supplies at 9:00a.m. and another company in Jianli County resumed supply at 5:00 p.m., according to the provincial environment bureau.
"Laboratory tests show that a bloom of maroon cyclotella has been identified as the cause of the abnormal water color," said He Shibiao, vice director of Hubei Provincial Environmental Protection Bureau.
Unlike the toxic blue or green algae, maroon cyclotella has a fishy smell, is innocuous and will not affect drinking water, He said.
Tests on the water from Jianli and Qianjiang sections of Hanjiang river showed the amount of cyclotella reached 100 million parts per liter, ten times the amount that could cause algae bloom.
The water from the three tributaries have been safe to drink after water from nearby Changhu Lake diluted the pollutants, said He.
But tests on Tuesday showed that the permanganate index as wellas ammonia and nitrogen levels were slightly higher than the standard.
Experts attributed the bloom to the worst snow in decades in the province. The abrupt rise in temperatures after the snow thawed killed a large amount of aquatic life which decayed and lead to excess nutrients, producing an unpleasant taste and odor.
The river's current lowered or stopped during the freezing weather in central China, which provided suitable environment for algae to grow and increase.
The Xinglong, Tianguan and Dongjing rivers are all tributaries of the Hanjiang River. Pollution was suspected as the cause when it was reported on Sunday that the water had turned a strange color.
Water companies were forced to cut supplies and use contingency sources. Residents had to rely on bottles of purified water and limited underground water.
Four teams were dispatched to inspect more than 30 factories along the rivers, but had identified no sources of pollution, according to the provincial environmental bureau.
"We would continue to inspect factories located in the source of water supplies across the province in case rivers were tainted by industrial pollution or chemical accidents," He said.
The bureau also planned to further promote water exchange by diverting water from Changhu Lake and Danjiangkou Reservoir duringthe low water period which was expected to last until late March.
Experts suggested paying more attention to water monitoring and protection after heavy snow and icy rain continuously hit southern and central China.
Last week, water pollution from homemade fertilizer affected the drinking water of 9,000 people in two towns in southwestern Yunnan province and killed 20 tons of farm fish.
Police arrested farmer Zhou Shunfu, who dumped 120 tonnes of waste residue containing phosphate on his fields, thinking that it could be used as fertilizer, and wiped out a neighbour's fish farm.