A moderate earthquake measuring 4.2 on the Richter scale has jolted the city of Hejdakin in the southeastern Iranian province of Kerman.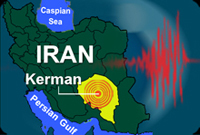 ©Unknown
The temblor occurred at 05:28 local time (0158 GMT) Wednesday, Tehran University's Geophysics Institute reported.
The epicenter of the quake was located in an area at longitude 56.96 degrees east and latitude 30.82 degrees north.
There have been no reports of casualties or damage, but it did cause panic among the town's residents.
Earthquakes are common in Iran as the country sits on some of the world's most seismically active fault lines.