At least five people were killed when strong rainstorms swept Slovenia, damaging houses and isolating towns and villages from the rest of the country.
Heavy rains driven by high winds were strongest in northern Slovenia Tuesday, rendering serious damage to houses, flooding roads and railways and cutting off electricity and phone networks, the Serbian news agency Beta reported Wednesday.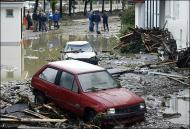 ©AFP
Slovenians clean debris and wrecked cars after heavy floods in Zelezniki, some 60 kms northwest of Ljubljana. Four people died and four were still missing Wednesday, the day after the heaviest rains in 30 years hit Slovenia's northwest, causing flooding and mudslides, state radio said.
Authorities said five people died and one woman was missing.
Two people were killed when a landslide destroyed their house, two people died while trying to save flooded property and a 31-year-old firefighter was electrocuted while pumping out water.
Flood waters cut off the north-central town of Velenje from the rest of Slovenia and inundated a school and houses in nearby villages.
Several towns and villages were left with electric power.