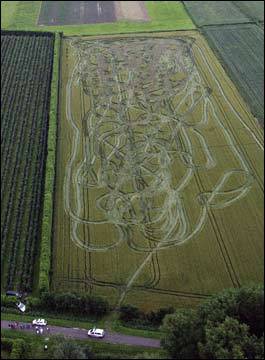 ©AP
This was the chaotic scene when a driver high on crack veered into a farmer's field - and came a cropper after being chased round and round by two cop cars.
The maize crop's fuming owner watched in horror as the Wacky Races-style pursuit caused £5,000 damage.
Police radioed for helicopter back-up to help corner the maniac motorist in Holland.
Farmer Ad van Schendel begged officers to halt the mayhem, yelling: "Shoot out the tyres!"
The crackhead driver was eventually nicked after he careered into an orchard and ended up in a ditch. Yesterday he was in custody.
Meanwhile, the crazy "crop circle" near the town of Dussen drew hordes of sightseers - even if it was more of a COP circle.