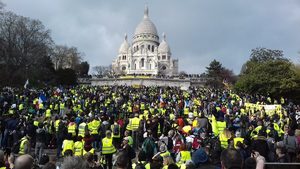 Acte XIX: Sacré-Coeur, Paris, 23 March 2019
Confucius has no interest in falsehood; he did not pretend to be prophet; he claimed no inspiration; he taught no new religion; he used no delusions; flattered not the emperor under whom he lived.
- Voltaire
Recent Comments
CNN is total lying propaganda garbage that only works to spew utter nonsense to polarize the uneducated masses into supporting corporate banker...
---
This is further confirmation of just how deep in debt is trump to Jewish Bankers; Trump must continue to suck on the Jewish Tit otherwise they...
---
I don't think I would be complaining that only a particular part of the alternative treatment (such as just the IV vitamin C), or whether it was...
---
If someone tells you something, your first question should be: "what do they have to gain by having me believe them?"
---
"Zelko told me that six months before the bombing started, they were gathered at a base in New Mexico, where, in addition to combat training, they...