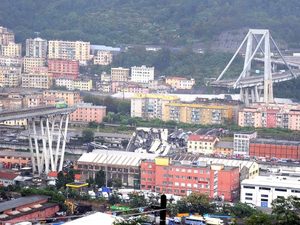 14 August 2018: Morandi Bridge in Genoa, Italy, collapses during a storm, killing 35 people
The eye sees only what the mind is prepared to comprehend.
- Robertson Davies
Recent Comments
It is all a show, with Canada on one hand proclaiming moral authority through engineered Western style mainstream media selling whike at the same...
---
Nice bonus for the young to learn cpr, first aid in case their granny chokes on a prune, but if the globalists in the government who pine for a...
---
Two of the top three global trends that the author analyzed in his latest piece for Eurasia Future are Hybrid War Balkanization and Trumpism vs....
---
Yes, economic disasters usually occur much faster than one would think possible. For an analogy, visualize a ship, slowly sinking after bumping...
---
"far left Sierra Club"....hahahahahahahahaha