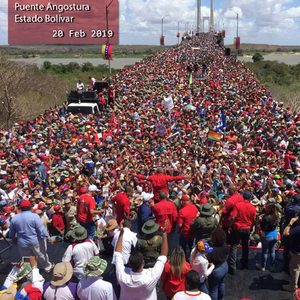 20 February 2019: Pro-Maduro demonstration on Angostura Bridge in Bolívar state, Venezuela
When men yield up the privilege of thinking, the last shadow of Liberty quits the horizon.
- Thomas Paine
Recent Comments
What's absurd is the fact that it's NOT true should make people happy. Looking at it from a logical point, even from the warped landscape of these...
---
Emma Smith, a Met Office meteorologist, explained the colour was caused by light bouncing off different areas of fog and cloud which can distort...
---
Time for all you E.U. fools to take back your countries. (Too bad about how they already took all of your firearms.)* R.C. * So what's stopping we...
---
Freaking Zizek! WTF! I should have known from the comparison of Maduro or Guaido in the title. Zizek can't put two intelligent coherent sentences...
---
Honestly, I was an early adopter for tech...had my speedy Mac Plus with my 300 baud modem trolling Prodigy way back in 1984...have seen the entire...