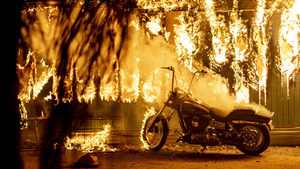 The Woolsey Fire in Malibu, California, November 10, 2018
He who passively accepts evil is as much involved in it as he who helps to perpetrate it. He who accepts evil without protesting against it is really cooperating with it.
- Martin Luther King, Jr.
Recent Comments
The most important and relevant weapon in the hands of Hamas is the internationally recognised "right to defend itself against the Jewish...
---
Zuckerberg will forever be a boy failing at a man's job.
---
What the..? What does "BDS" stand for? Note to journalists: Pretend you're writing for an audience who might not be intimately versed in your area...
---
France may have a tradition of boisterous protest But I can't remember there being so many during a single president's term, and on so many...
---
"The only regime change really needed should be made in Washington" Is/ra--el would be on top of my to do list.