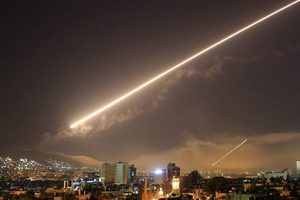 Syrian air defense systems protecting Damascus - the oldest continuously-inhabited city on Earth - from Western airstrikes, 14 April 2018
In the Truth there is no news, and in the News there is no truth
- Popular Russian saying under Soviet Communism
Recent Comments
read a story many years ago where a woman moved west and tried to figure out what to do to earn money She sold tumbleweeds to people in different...
---
Turkey sees the writing on the wall, and is preparing for sanctions, among other things. So much for micron's recent statement, that the axis...
---
Not surprising that the US client regime in Kiev will try to sabotage the World Cup. Anything to spite Russia. The DPR, and LPR will be expecting...
---
"The return of gold deposits will therefore be drawn out as long as possible." If ever. For those who claim gold a "barbaric relic", they...
---
It's over 70 years since Japan was nuked by America ... isn't it time is stopped being a client state