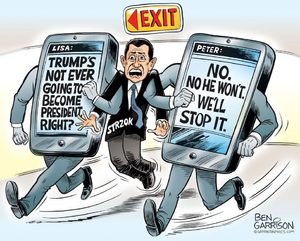 Strzok has left the building
What is truth anyway? The truth is the essence of something, its natural state, something as it really is. For me, it is really a quest for love, because to truly love something I must know it for what it really is. Perhaps we can sense in an unconscious way that there is a deeper truth to everything and everyone, and we are led to search for the truth about it, so that we can truly love it for what it really is.
- Joe Quinn
Recent Comments
- in wars between equal forces there will be no winner - "yesterday", there vere multitudes of suppliers, today "the winner takes it all", globaly...
---
"Remember a rat can fit through a hole that is only 20 millimeters - a five-krone coin!" the warning from the city said. That sounds like a very...
---
"Anubis Junior, stop fooling around on the Earth-plane and time-fractal back here right this minute! Your room needs cleaning!"
---
Q: What do you call a Greek alligator? A: A crocadopoulos
---
"Brother of Hanoi Jane Fonda". Drain the swamp...[Link]