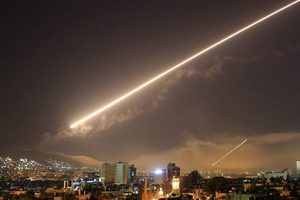 Syrian air defense systems protecting Damascus - the oldest continuously-inhabited city on Earth - from Western airstrikes, 14 April 2018
All truths are easy to understand once they are discovered; the point is to discover them.
- Galileo Galilei
Recent Comments
You cannot run away screaming when you have been brainwashed.
---
If you tried to grow roses in this shit they'd come up looking like Venus fly traps . . . .
---
the building was demolished and all the wreckage was removed to a fenced in landfill and buried . hmmm, why does that sound familiar?
---
Language pollution is the enemy of Reason.
---
Radar proof please and no fake crap like a Ukrainian SU25 intercepting MH17 pushed a few years ago. If true they don't need S300/S400 now do they?...