About dugdeep
Name: Doug DiPasquale

Doug DiPasquale is a Holistic Nutritionist, Paleo enthusiast and health journalist living in Toronto, Canada. He's a regular contributor for SOTT.net, Dot Connector Magazine, the Huffington Post Canada, The Food Network Canada and has contributed to many other blogs and online publications. He's passionate about the food we eat, exposing the lies and faulty thinking of the "food police" and informing the public about how to eat real food, ie. replacing that wheatgrass shot with bacon.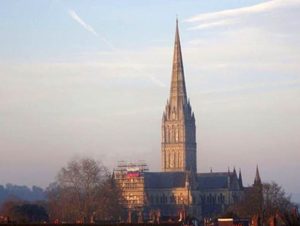 Salisbury Cathedral, 17 February 2019. Did you know? The spire is 123 meters tall, and famous throughout Europe...
When we talk about compassion, we talk in terms of being kind. But compassion is not so much being kind; it is being creative [enough] to wake a person up.
- Chogyam Trungpa Rinpoch
Recent Comments
I know that 'nothing is new under the sun', but I like this phraseology: shadows are not merely the absence of light, but are also an expression...
---
I don't think there is ANYONE in Ohio with an IQ higher than 13. A state of morons....
---
"And in the darkness, bind them." R.C.
---
"The question is whether the liberation of a region can be done only at the cost of the destruction of its infrastructure (hospitals, places of...
---
P&T: No, it's not 'wrong' "to belly-laugh at this?? It's Only Fools and Horses mixed with Benny Hill...and breathe........!!!!" LOL? Me too!...