About Gary
Name: Gary Boyle

Gary Boyle is a social care worker and part-time unpaid taxi driver for his teenage children. He has a background in architecture, with particular interest in natural building. Although living in the increasingly ponerized British Isles, he enjoys a relatively simple lifestyle. He loves bacon, satire and exposing psychopaths in power and strives to rebuild 'Soul Communities' with co-linear folk.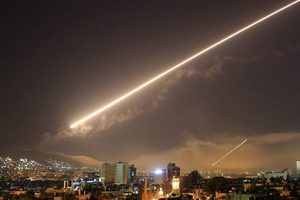 Syrian air defense systems protecting Damascus - the oldest continuously-inhabited city on Earth - from Western airstrikes, 14 April 2018
In the Truth there is no news, and in the News there is no truth
- Popular Russian saying under Soviet Communism
Recent Comments
Something reeks, but it's societies fear of sexuality. When you deny sex ed, teen pregnancies and STDs rise. Children need to know, and sex needs...
---
West is sicko. Needs psychiatrist's help. Check this pix [Link] [Link] [Link]
---
Looks like Sargsyan gave into the pressure. [Link]
---
Win 52 ... YES. As a neighborhood mom, I realize if it was just price, our kids would be bugging us nonstop for it ... but they aren't. Maybe the...
---
Paradoxically, there is something very un-insightful yet revealing about this statement: "Polls are not the one to tell you where you have to go...