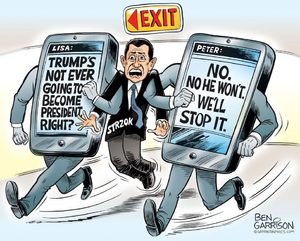 Strzok has left the building
What is truth anyway? The truth is the essence of something, its natural state, something as it really is. It is really a quest for love, because to truly love something we must know it for what it really is. Perhaps we can sense in an unconscious way that there is a deeper truth to everything and everyone, and we are led to search for the truth about it, so that we can truly love it for what it really is.
- Joe Quinn
Recent Comments
Anyways, until next month on the next white privilege article HFL... off to do other stuff that doesn't involve you :P .Been great as always....
---
George L. Come in, George L. A scary blue-eyed person wants to talk to you. Do you read me? Over.
---
"How are you going to have a whole bunch of people deny themselves ancestral history when you personally don't do it... HFL stands firmly behind...
---
A piece that I've rarely seen written is why a whole bunch of people for example think such a thing as white privilege exists? Or that there's...
---
Well that is no secret when it comes to horse people in general (people involved in the equine world).... Horses are great at reading body...