About linnetwoods With my partner, Robbie and two cats, Sweetie Pie and Honeybun, I live aboard a schooner at anchor off the island of Mallorca in the Balearic Islands, Spain.
Born in England, I was brought up in various countries (dad was a diplomat) and speak five languages to varying degrees of fluency. Over the past several decades I have written many songs, some published others not as yet, and three books as yet to be offered for publication; I have painted and drawn works both sold and not for sale, played seven musical instruments, travelled and worked in many places at many occupations.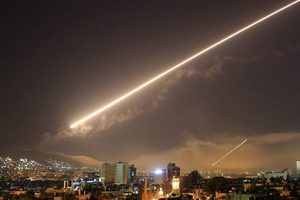 Syrian air defense systems protecting Damascus - the oldest continuously-inhabited city on Earth - from Western airstrikes, 14 April 2018
In the Truth there is no news, and in the News there is no truth
- Popular Russian saying under Soviet Communism
Recent Comments
Big threats from a small group squatting on someone else's territory. The un-holy war machine. Their god is a god of humane destruction. Read the...
---
For all of your information that is used, they should be free. Only the 1% can afford to use them. They were hoping to suck the other 99% into...
---
Once a system is corrupted how do you clean it up? Once psychopaths take over is there any hope? Seems this same sort of article can be written...
---
Satire? When you put it like that, it makes no sense at all! It isn't even funny.
---
The Ketogenic Diet would be closer to 100% effective on viruses than all the vaccines put together. When your body/lamp is full of oil, you become...