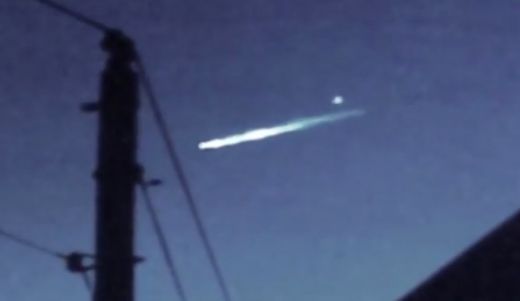 A mysterious glowing orb has been filmed breaking away from an unidentified meteorite-like object as it streaked across the sky above California.
The unusual object can be seen moving through the sky leaving a long tail behind that is characteristic of space debris or a meteorite burning up in the atmosphere. But after a few seconds a second round object separates from the main fireball and moves off in the opposite direction.
UFO hunters have claimed the bright orb may have been some sort of escape pod from a crashing ship. However, others have said it is more likely to have been a meteorite breaking apart in the atmosphere. There have been several sightings of meteorite fireballs in the US over the past week, with many reports coming from California. The past couple of days have also seen astronomers enjoying the peak of the annual Quadrantids meteor shower.
The fireball was spotted by Ken Roberts while he was driving home from work in southern California. He said: 'I was driving home after work when this UFO or whatever you call it caught my eye. 'I pulled over in front of somebody's house to film it. I would have got a better shot but I didn't want to jump these people's fence. 'Anyway I don't know what the hell to make of it. Couldn't have been a plane cause there was no noise. And I never heard a crash after either.
'The Orb thing flew straight up into the sky and disappeared.' He posted the video on YouTube on Monday evening but did not say when or where the footage had been filmed, other than the general area of California.
'I think it could be something re-entering and bits coming off it,' said Ben Biggs, editor of
All About Space
magazine. 'However, if it was a big spacecraft then we'd probably know about it. 'Could it be a meteorite? It's a bit slow to be one as they normally travel much faster through the atmosphere, although we are at the peak of the Quadrantids meteor shower.