On 2023 February 12.8 (20:18:07 UTC),
K. Sarneczky
found a small asteroid with the 0.60-m Schmidt + CCD of the
Piszkéstető Observatory
in Hungary (K88 MPC code) that was soon after put on the NEOCP list with the provisional designation Sar2667 for the follow-up by other observers. The object was subsequently imaged by many observers around the world and various impact assessment systems found a
100% impact probability in the area of the English Channel on Feb. 13 between 02 and 04 UTC.
This is the second discovery by Sarneczky of an impactor, following the
2022 EB5 event in March 2022
.
M.P.E.C.
2023-C103
issued subsequently on 2023 February 13 at 04:13 UT assigned the official designation 2023 CX1 to Sar2667 with the following comment:
K. Sarneczky reported a new NEOCP candidate observed at GINOP-KHK (K88). Rapid follow-up from multiple sites indicated an impact with the Earth's atmosphere on February 13 03:00 UTC near the coast of Normandy, France, as determined by imminent impact monitoring services such as JPL's Scout, ESA's Meerkat and MPC's internal warning system.
Map of the impact zone predicted to occur a few kilometers from French coast, North-East of Le Havre. Click on it for a bigger version.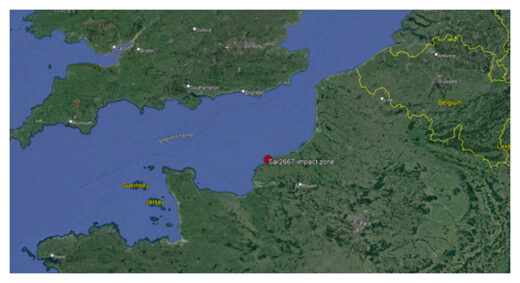 2023 CX1 was a small
Aten asteroid
with an estimated size of ~1.0 m (based on the object's absolute magnitude H=32.6).