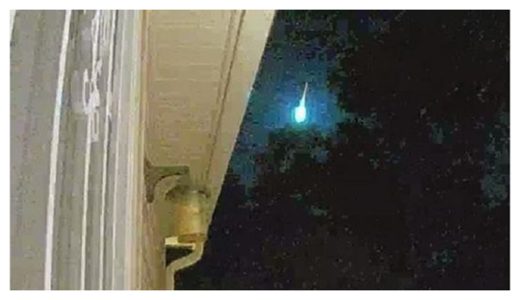 Was it a dragon? A sign of the apocalypse? A warning shot from North Korea?
No, that bright, green fireball seen streaking over Montgomery early Tuesday morning was just your average piece of celestial space rock burning up in the atmosphere, according to Bill Cooke with the NASA Meteor Environment Office.
Cooke said the fireball was a fragment of a comet measuring about 5 to 6 inches in diameter. Igniting as it hurtled into the atmosphere about 54 miles above Highway 84 in Conecuh County, the fireball flew well over the speed limit at approximately 83,000 mph.
It was spotted by three NASA cameras located in Georgia and North Carolina at approximately 3 a.m., but perhaps the best footage was captured by one Montgomery resident's doorbell camera. Posted on Facebook Tuesday morning and shared with the
Montgomery Advertiser
, the video shows the comet briefly and brilliantly blazing by Alabama's capital, obviously late for something.