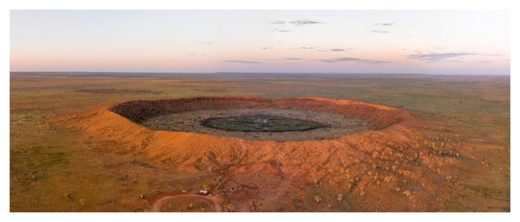 In the state of Western Australia sits the famous Wolfe Creek crater, the aftermath of a 14,000-tonne meteorite crashing into Earth thousands of years ago.
A new study now claims the impact happened far more recently than we suspected, prompting a rethink on how often giant space rocks actually strike our planet.
A team of researchers from universities in Australia and the US took a close look at several features of the crater's underlying rock to get a precise measurement on the age of Wolfe Creek's most famous landmark.
Previous estimates have stated the crater could be
300,000 years old
, but the new result places it much closer to our time, perhaps as little as 120,000 years ago. And knowing this is not just a geological curiosity, either.
As far as neat-looking craters go, they don't tend to be much bigger. With little rain to wear away the walls of the impact site, Wolfe Creek crater has been remarkably well preserved throughout the ages. But the site also stands out for the fact it is the second largest crater on Earth to still have fragments of the offending space rock.
There's no doubt the shrapnel of far bigger blasts exist out there somewhere, but with ocean and ice covering so much of our planet's surface, and wind and rain eating away at the geology, evidence is hard to come by.