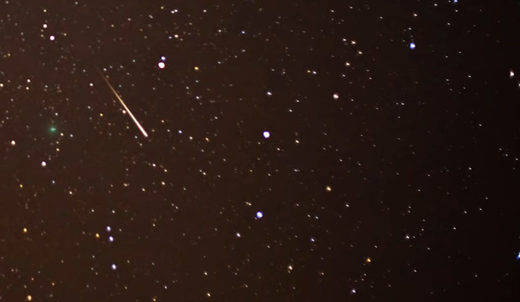 The radiant of the Geminid meteor shower is not very far from approaching
Comet 46P/Wirtanen
. Their respective constellations, Gemini and Taurus, are next door neighbors.
That means comet photographers can expect to catch some Geminids in their exposures. Indeed, that's exactly what happened to Joe Lawton of Gerald, Missouri, on Dec. 9th. "As I was photographing 46P/Wirtanen, a Geminid meteor blazed across the sky and disintegrated next to the comet!"
"I combined a series of still images to create this video," he explains. "
You can see smokey debris from the Geminid meteoroid twisting in the winds of the upper atmosphere
and ultimately dissipating."
How often is this happening?
Just last night Harlan Thomas of Powderface Trail, Alberta, and Dr. Paolo Candy of the Cimini Astronomical Observatory in Italy also caught Geminids streaking past the comet.