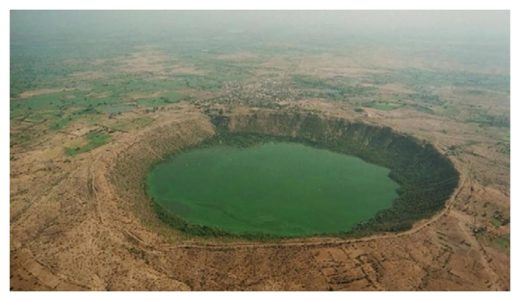 For long the origin of the Ramgarh crater has been a subject of debate among researchers. While some believe that it was caused by 'meteorite impact', others are of the view that it evolved from 'tectonic' or 'structural' activity or 'magmatism'.
For years the crater - located near Ramgarh village, about 12 km east of Mangrol - has been considered as a 'meteorite impact' site, but the theory lacked unambiguous evidence.
However, a study by geologist Satyanarayan Rana has found diagnostic evidence of 'meteorite impact' at the crater.
Rana, a research scholar at the department of geology, Mohanlal Sukhadia University (MSU), Udaipur, has found evidence in the form of shatter cones in sandstones, planar deformation features (PDFs) and planar fractures (parallel sets of multiple planar cracks) in quartz grains.
Shatter cones are rare geological features and are only known to form in the bedrock beneath meteorite impact craters or underground nuclear explosions. PDFs are also formed by extreme shock compressions on the scale of meteor impacts.
"This regional geological structure has invited the interest of various geologists throughout the world since its discovery and the past five decades have witnessed a number of theories on the origin of this structure, but the issue of origin remained debatable," the 33-year-old PhD researcher, who started his research in 2013 and he completed it in April this year.