In two previous articles, I proposed explanations for the events that triggered the
Younger Dryas
.
In the article titled
Did Earth Steal Martian Waters
, I described how, ca.12,500 BP, an electric discharge may have transferred part of the Martian water and atmosphere to Earth (see pink arrow on the diagram below).
In the article titled
Of Flash-frozen Mammoths and Cosmic Catastrophes
, I explained how, about 4 centuries earlier, ca. 12,900 BP, several cometary fragments hit the Earth's Northern hemisphere (see turquoise arrow) causing the subsequent global cooling.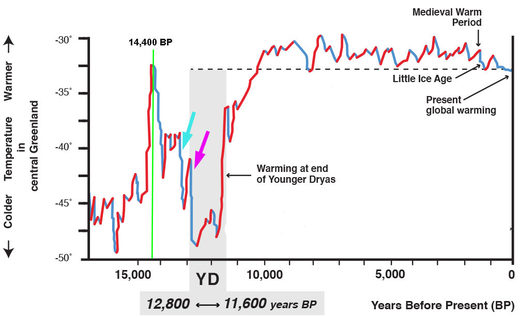 While writing those articles it appeared more and more clear that these were only two of three catastrophic events that preceded the Younger Dryas. In the diagram above, we can see that a third event occurred ca. 14,400 BP (see green vertical line).
This event had an even greater magnitude than the two events that followed it since it induced a 10°C drop as compared to the two following events which 'only' induced a 7°C drop.
In the present article, we will explore the specifics of the 14,400 BP event and explain how it might be part of a larger 3,600 year cometary cycle.