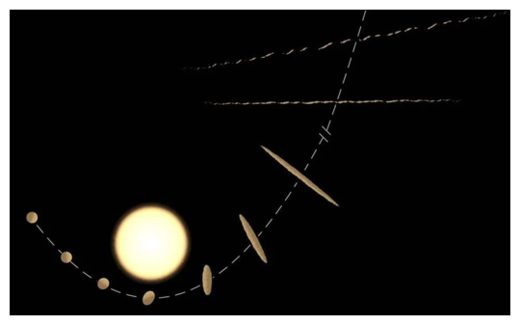 Since its discovery in 2017, an air of mystery has surrounded the first known interstellar object to visit our solar system, an elongated, cigar-shaped body named 'Oumuamua (Hawaiian for "a messenger from afar arriving first").
How was it formed, and where did it come from? A new study
published April 13 in Nature Astronomy
offers a first comprehensive answer to these questions.
First author Yun Zhang at the National Astronomical Observatories of the Chinese Academy of Sciences and coauthor Douglas N. C. Lin at UC Santa Cruz,
used computer simulations to show how objects like 'Oumuamua can form under the influence of tidal forces like those felt by Earth's oceans. Their formation theory explains all of 'Oumuamua's unusual characteristics.
"We showed that 'Oumuamua-like interstellar objects can be produced through extensive tidal fragmentation during close encounters of their parent bodies with their host stars, and then ejected into interstellar space," said Lin, professor emeritus of astronomy and astrophysics at UC Santa Cruz.