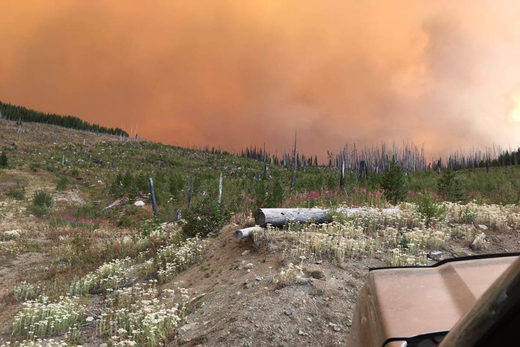 Canadian portion of Diamond Creek Fire grows to 1,700 hectares, forced closure of Cathedral Park.
The Diamond Creek Fire that started in the US and crossed into Canada sometime over the last 24 hours is growing at a rapid rate.
The Canadian portion of the fire has grown to more than 1,700 hectares in size since nightfall Tuesday.
The fire is burning about 17 kilometres northeast of East Gate in Manning Park and 50 kilometres southwest of Keremeos.
"BC Wildfire Service is currently assessing what values are threatened and are currently assessing how to tackle this," said Justine Hunse, fire officer for BC Wildfire Service.
As a precautionary measure the province has ordered the closure and evacuation of Cathedral Provincial Park near Keremeos.
The Diamond Creek Fire started July 23 and has consumed more than 20,000 hectares (50,000 acres) of Pasayten Wilderness in Washington State. The fire has been deemed to be human caused.
Glenda Patterson, owner of the Cathedral Lakes Lodge located in the provincial park said she was told about the closure and evacuation order around 9 a.m. Wednesday morning.
Her staff has been working to evacuate the park since.