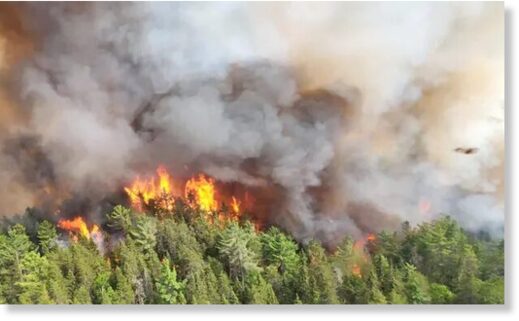 Smoke from Canadian wildfires that has descended upon parts of the eastern US and Canada in a thick haze has drifted over Norway and is expected to hit southern Europe, Norwegian officials said on Friday.
Using a climate forecast model, atmosphere and climate scientists with the Norwegian climate and environmental research institute (NILU) predicted how the smoke would travel through the atmosphere, flowing over the Scandinavian country before moving further south. The smoke was not expected to pose a health risk there.
"Smoke from the forest fires in Canada is still drifting in over Norway. It will also reach other parts of Europe over the next few days," the institute said on Twitter.
The smoke has moved over Greenland and Iceland since 1 June, and observations in southern Norway have recorded increasing concentrations of aerosolized particles, the independent research institution said.
"We may be able to see some haze or smell smoke," Nikolaos Evangeliou, a senior NILU researcher, said.
"However, we do not believe that the number of particles in the air here in Norway will be large enough to be harmful to our health. When the smoke reaches Europe, the number of particles is much lower,".
The smoke will probably continue to move through Norway as the blazes burn in Canada, he said in a statement.