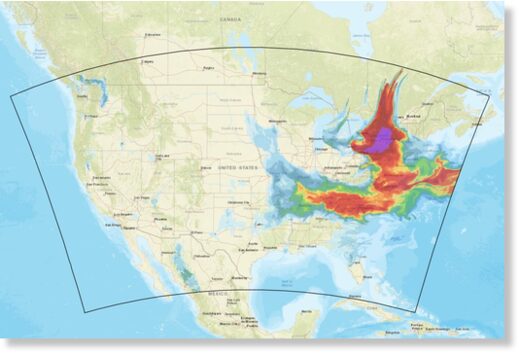 Millions of people in the eastern U.S. faced unhealthy air quality conditions Tuesday as smoke from wildfires in eastern Canada wafts over much of the country.
An air quality advisory was in effect for several regions of New York state Tuesday. Air monitoring stations in some parts of New York City showed measures considered unhealthy for anyone Tuesday afternoon.
New York City ranked second and Detroit third among major cities for the worst air quality worldwide around 1 a.m. Wednesday, according to IQAir, a Swiss air monitoring company.
"Try to limit your outdoor activities today to the absolute necessities," Mayor Eric Adams advised anyone with breathing issues on Twitter.
It was the second day of hazy skies across a wide stretch of the country. Smoke blanketed the landscape from the Ohio Valley to as far south as the Carolinas on Monday. Air quality advisories were in effect Monday in southeastern Minnesota and parts of the Upper Peninsula of Michigan, as well as in more than 60 counties in Wisconsin.
More smoke was expected Wednesday in New York City.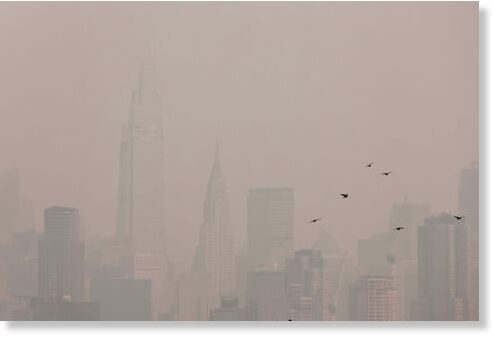 "Smoke and haze from wildfires across eastern Canada will continue working into the region this evening," National Weather Service forecasters wrote in a text forecast. The forecasters said the concentration of smoke might lower overnight but that widespread haze was expected into Wednesday morning.
Late Tuesday, New York City Public Schools said all of its schools would cancel outdoor activities because of the air quality alert.
Air pollution is spiking from wildfires that have been raging in the Canadian provinces of Quebec and Nova Scotia.
"A band of smoke from wildfires in Quebec will continue to linger across east central and southeast Minnesota today due to very light winds," the Minnesota Pollution Control Agency tweeted Monday, adding that air quality should improve in the evening as thunderstorms help disperse smoke particles from the air.
Some 414 fires were burning in Canada on Tuesday evening including 239 considered "out of control," the Canadian Interagency Forest Fire Centre said
. Canada is experiencing one of the worst starts to its wildfire season ever recorded. More than 6.7 million acres have already burned this year, federal officials said last week.
Around 14,000 people were forced to evacuate, and more than 150 fires are still ablaze in Quebec, CBC News reported. Farther east, in Nova Scotia, officials said Sunday that one wildfire had been contained but that a second, covering nearly 100 square miles, was still burning out of control, The Associated Press reported.
Fire weather was developing in the U.S., too. The National Weather Service's storm prediction center said Tuesday that "dry thunderstorms" — common firestarters — could spark blazes in the mid-Atlantic. Gusty conditions could spread the fires and make them difficult to control.
In recent days, smoke from the fires has been drifting over the northeastern U.S. and settling across the Midwest. Alerts warning of elevated concentrations of air pollution were issued across the regions, particularly for "sensitive groups," including children, older adults and people with asthma and other respiratory conditions.
Air pollution from wildfire smoke has become a significant health risk in the U.S., and it is growing worse. Stanford University researchers found that the number of people who experienced at least one day with unhealthy air quality because of smoke rose by 27 times over the last decade.
Small particles in smoke that are less than 2.5 micrometers in diameter — about 4% of the diameter of an average human hair — are of particular concern to air quality researchers.

"These are the particles that are small enough to breathe in and can cause cardiovascular issues," said Brett Palm, a scientist at the National Center for Atmospheric Research in Boulder, Colorado.

Exposure to such pollution can cause inflammation and weaken the immune system, particularly when the tiny particles penetrate the lungs and enter the bloodstream. Particulate pollution may increase the risk of asthma, lung cancer or other chronic lung diseases, particularly in vulnerable groups like older people, pregnant people, infants and children.