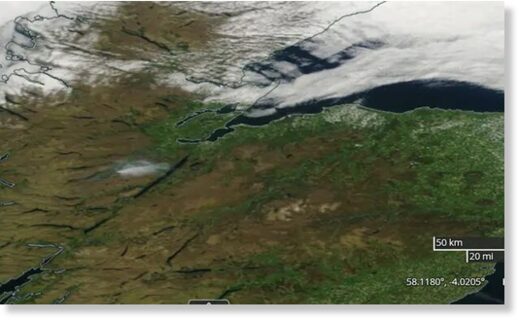 Firefighters have spent four days battling a wildfire in the Scottish Highlands that officials believe is on its way to becoming the largest by area on record in the UK and which has been photographed from space.
The fire broke out at Cannich near Inverness on Sunday and has
grown to an area measuring roughly 8km by 8km (24 square miles)
. Two firefighters were injured on Tuesday after being in an accident in their all-terrain vehicle while tackling the blaze. They have since been discharged from the hospital, the community safety minister, Siobhian Brown, said in the Scottish parliament on Wednesday.
While firefighters are still investigating the cause of the fire, the Scottish fire and rescue service is appealing to the public to take great care when outdoors.
"It is crucial that people act safely and responsibly in rural environments and follow the countryside code," the agency said.
The agency noted that, since last week, firefighters had responded to fires in the same area as the Cannich blaze on four occasions. Scottish fire and rescue service (SFRS) has since extended a wildfire warning it had in place since Friday to 5 June.
"As the warm and dry weather continues, so too does the risk of wildfire," said SFRS group commander Niall MacLennan. "The ongoing incident at Cannich shows just how large these fires can become."
Smoke from the latest fire has been photographed from space by Nasa satellites.
In parliament on Wednesday, Brown committed the Scottish government to raising awareness of wildfire prevention after the Labour Highlands and Islands MSP, Rhoda Grant, noted suggestions that wild camping may have ignited the blaze.
"The weather and the condition of vegetation at this time of year lends themselves to fires starting easily and spreading quickly," Brown said. "It is crucial people act safely and responsibly. One heat source can cause ignition and if the wind changes direction the smallest fire can spread and devastate entire communities, hillsides, livestock, farmland, wildlife, protected woodland and sites of special interest."
The Conservative MSP Rachael Hamilton, who said the fire was "estimated to become the largest by area on record", questioned the minister over how the Scottish government was looking into wildfire prevention beyond awareness campaigns. "We know an ounce of prevention is better than a pound of cure," Hamilton said. "We cannot control the weather and clearly no amount of signposting and public awareness will stop fires like this from occurring.
"What we do know we can do is boost wildlife resilience in vulnerable areas. Managing fuel load on these landscapes protects people, property and habitat."
Brown responded that the Scottish government "has set a world-leading" target to restore 250,000 hectares (620,000 acres) of degraded peatland by 2030 and that more than 65,000 hectares (160,000 acres) have already been restored.
SFRS asked members of the public to avoid walking their dogs near where the helicopters are releasing water, and to close their windows and doors.