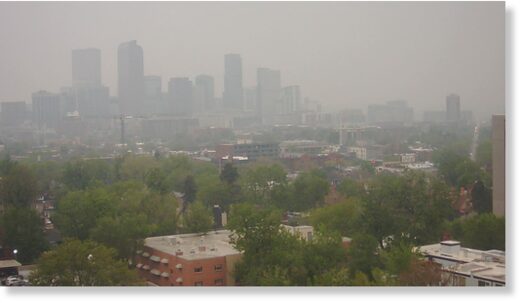 Thick smoke from Canadian wildfires has pushed across the border into America's northern tier states this week, blanketing several states in a milky orange-tinged haze and sending air quality to hazardous levels in a few areas.
Around 150 wildfires are burning across northern Alberta and British Columbia, pouring acrid smoke across western Canada that is carrying south into the United States along the upper-level winds.
Smoke has reached into the Pacific Northwest, Rockies, northern Plains and even into the Great Lakes and Mississippi Valley.
Smoky skies have been reported as far south as St. Louis and Paducah, Kentucky and as far west as Seattle and Denver.
The northern Rockies and Northern Plains took the brunt of the smoke on the American side of the border Thursday.
While the smoke has remained elevated at several thousand feet and has not posed a significant air quality threat on the surface for most of the affected areas, smoke dropped near the ground Thursday near the Canadian border from Eastern Washington into Minnesota and Wisconsin, degrading air quality to unhealthy, or even hazardous levels in some cities in North and South Dakota.
Mercer County, North Dakota, reported an air quality index of 660 Wednesday evening, well above the hazardous threshold of 400.
Earlier Thursday, air quality reached hazardous levels in Pierre and the Badlands of South Dakota, according to the U.S. Environmental Protection Agency's
AirNow air quality monitor.
Several air quality readings in the "Very Unhealthy" range were spread across North Dakota into eastern Montana and northern South Dakota. "Very Unhealthy" air quality then drifted east with the smoke into western Minnesota and even northwestern Iowa by midday.
By late Friday morning,
smoke rolled into Colorado
, smothering Denver in a thick haze and ranking the Mile High City as the third worst air quality of all major cities in the world. Thick smoke covered western Montana and along a front that stretched from Wisconsin into central Kansas.
"You may smell smoke at times!"
NWS Milwaukee forecasters tweeted.
Spots in western Montana and around Cheyenne, Wyoming also were dealing with unhealthy smoke-degraded air quality early Friday morning.
Where are the Air Quality Alerts currently in effect?
Air Quality Alerts are posted across the entire states of Montana and Nebraska Friday morning, plus eastern portions of Washington, Colorado and Wisconsin. General air quality advisories cover Wyoming.
Officials are urging residents in those areas under alert to limit outdoor activity, especially those sensitive to air quality, such as children, the elderly and those with heart or respiratory ailments. Or in the case of very healthy or hazardous air quality, officials urge everyone to avoid all outdoor activity.
Forecasts show improving conditions across the northern tier Friday into the early weekend as the smoke is carried east, though some will drift across the Northeast over the weekend but should stay above ground levels.
However, forecast models indicate a renewed round of wildfire smoke will return to the Northern Plains late Saturday into Sunday.