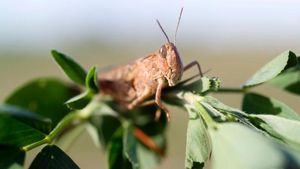 Surveillance aircraft have captured images of "supersized" bands of locusts in northwestern NSW that are more than three kilometres in length.
NSW Primary Industries Minister Steve Whan has released the footage of the locusts near Walgett, taken during the first aerial surveillance mission of the plague season.
Mr Whan said
there were now 102 confirmed locust reports across NSW
, with aircraft on Wednesday detecting the insects in 16 locations near Walgett.
"What we've seen from the footage is supersized bands of locusts, more than three kilometres long, eating fodder and crops in northern NSW," Mr Whan told reporters at NSW Parliament on Thursday.
"This has confirmed our prediction that the northwest will be the first front in the battle against the locust plague.