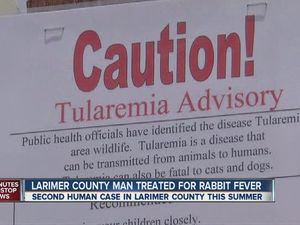 U.S. health officials said on Thursday they were puzzled by a surge in the number of people who have contracted a rare bacterial disease usually found in rabbits that has already killed a Wyoming man and sickened dozens of people in Colorado, South Dakota and Nebraska this year.
The unusually high number of cases of tularemia, sometimes called rabbit fever, have been concentrated in northeastern Wyoming and in neighboring parts of South Dakota and Nebraska and farther south in the Colorado Front Range, where there have been reported die-offs of animals like rabbits and voles that can carry the infectious disease, Wyoming health officials said.
While tularemia, whose symptoms can include fever, sore throat and muscle aches, is often present in the environment, it rarely sickens more than a few people a year in Wyoming, a handful in Colorado and just a few in South Dakota, health officials said.
That compares to 41 confirmed human cases so far this year in Colorado, 14 in Wyoming - the highest number in the quarter century that reliable records have been compiled - and at least 19 in South Dakota, the most since 34 people acquired the ailment in 1984, state epidemiologists said.
"This is quite unusual,
" South Dakota epidemiologist Lon Kightlinger said.
The U.S. Centers for Disease Control and Prevention is studying cases in those states and Nebraska to identify common factors, Wyoming State epidemiologist Tracy Murphy said.
The disease is treatable with antibiotics but can be deadly. It killed an elderly Wyoming man earlier this year after causing a severe infection of his central nervous system,
Murphy said.
Tularemia can be transmitted to people through handling of sick animals, including pets like cats and dogs that have come in contact with infected rabbits or rodents, as well as bites from ticks, deer flies or horse flies.
Infections also are
linked to activities such as lawn mowing
, in which people inhale bacteria from contaminated dust, or handling animal carcasses, health officials said.
They are warning people in the four states to avoid contact with ailing or dead rabbits or rodents, especially without wearing rubber gloves and masks, and advised testing of pets showing any symptoms.
Animals that tested positive for tularemia near Devils Tower National Monument in Wyoming led the National Park Service to post signs urging visitors to stay on marked trails and avoid contact with animals.