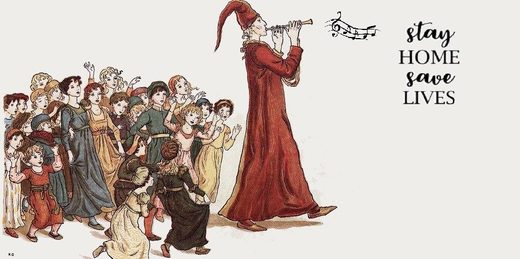 The world has now been under Covid-19 lockdown for about two months, thanks to our fearmongering leaders, who've been comparing the coronavirus pandemic
to a wartime situation
and apparently competing with each other to see who can subject their populations to the most draconian measures. And they claim it's all necessary
in order to save lives.
Never mind that as a consequence of the lock down it is likely that MORE people are dying than would otherwise have done, due to a variety of problems, not least
the shuttering of primary health care
- and particularly in 'Covid-19 hot spots',
like the UK
. So a strange "war" is going on where people are forced to sit at home and binge-watch Netflix while being frightened into submission by the media's wildly exaggerated claims about
dubiously-acquired case/death numbers
, and while the elderly and the vulnerable pay the highest price. It seems then that when justified by "saving lives", you can get away with literally anything - like killing off a bunch of people. We shouldn't be surprised though, because in just the last 20 years, several wars led by Western governments that killed, literally, more than 1.5 million people, were justified by the need to 'save people'
At the end of the World War 2, the US dropped two nuclear bombs on Japanese cities - in Hiroshima and Nagasaki -
killing approximately
200,000 civilians.
Officially,
it too was done
"in order to save lives".
Whatever immoral crimes against humanity are committed, it's rationalized as necessary for some greater good - even if that means blowing hundreds of thousands of people to pieces with weapons of mass destruction.
If people could be made to believe that nuking Japan was done in order to 'save lives', if people could be made to believe that invading and occupying Iraq and killing 1.5 million Iraqis was to 'save them', then surely it's not a big task to convince them that subjecting a third of the global population to home imprisonment and risking the destruction of the global economy, will also 'save lives'.
There are always fairy tales for children and hard truths for adults.
The fairy tale is offered to make people feel comfortable and safe. Truth, on the other hand, is what it is - not something that can be shaped and distorted to produce 'the right feeling'. Adults who remain as children, believing in fairy tales, are dangerous because they take or support actions that can have very serious consequences for themselves and for society as a whole.