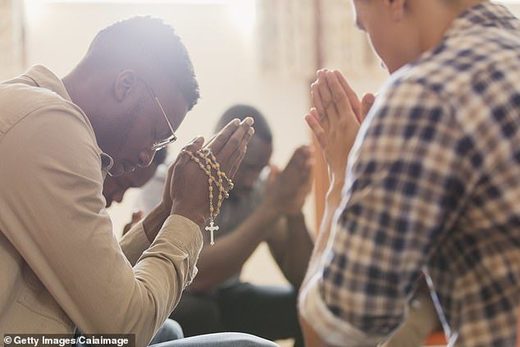 People who actively practice a religion may be happier than the rest, according to a new study.
A
Pew Research
study analyzed survey data from
more than two dozen countries
to compare the self-reported lifestyles of religious and non-religious people.
Overall, the researchers found actively religious people tend to be happier, though they aren't necessarily healthier in terms of exercise or obesity rates.
While the link between religion and health may not have been so clear, the findings on self-reported happiness are 'striking,' the researchers say.
The study broke religious participation down to three categories are: Actively religious (regular participation), 'inactively religious' (claim a religious but attend services infrequently), and 'religiously unaffiliated' (people who do not identify with any religion).
More than a third of actively religious adults in the US (36 percent) described themselves as 'very happy' in the surveys, compared to a quarter of both inactive and unaffiliated Americans.