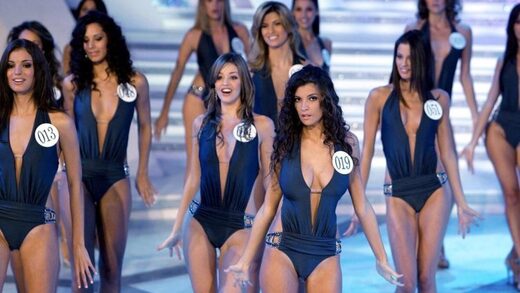 The Miss Italy (Miss Italia) beauty pageant has
banned transgender contestants
from participating, saying that all entrants must be "a woman from birth."
According to Patrizia Mirigliani, the official patron of the competition, this is a
longstanding policy
.
"Ever since it was born, the competition includes in its regulation the clarification that you have to be a woman from birth. Probably because, even then, it was expected that in the future beauty could undergo changes, or that women could undergo modifications, or that men could become women," she said.
According to Mirigliani, some beauty contests are begging for media attention by including transgender contestants, which is "a little absurd," adding that Miss Italy "will not jump on the glittery bandwagon of trans activism."
"It's all part of the new way of talking about women, but we try not to facilitate everything that is excessive to accentuate the aesthetics. Excesses are not good," she added.
Mirigliani's remarks come after the Miss Netherlands beauty pageant notably awarded the title to a man who identifies as transgender - another setback for actual feminism. Rikkie Valerie Kollé, 22, will represent the Netherlands at the Miss Universe 2023 pageant, which is expected to be hosted by El Salvador, the
Epoch Times
reports.
"If Miss Holland thought it appropriate to include [people who identify as transgender] I am happy for them," Ms. Mirigliani said in separate remarks, adding that rules for Miss Italy would not change for now," the
Huffington Post Italy
reports.
Miss Italy is not related to Miss Universe Italy, which is a separate pageant that selects the Italian representative for the Miss Universe pageant.

Mr. Kollé will be the second openly transgender person to compete in the Miss Universe pageant — the first competitor who identified as transgender was Angela Ponce in 2018, who won the title of Miss Spain.

The Miss Universe beauty pageant, which includes Miss USA, changed its rules in 2012 to allow biological males who identify as transgender to compete. - Epoch Times
"We have a long history of supporting equality for all women, and this was something we took very seriously," said the president of Miss Universe in 2012.
In recent years, two transgender contestants have won various competitions. In March 2021, Kataluna Enriquez won Miss Nevada USA. Mr. Enriquez went on to compete in the 2021 Miss USA pageant later that year.
In 2023, Brian Nguyen won the title of Miss Greater Derry 2023 in November 2022, becoming the first transgender individual to win a title under the Miss America organization - which is a separate pageant to Miss Universe and Miss USA. Nguyen later lost the Miss New Hampshire 2023 pageant in April.