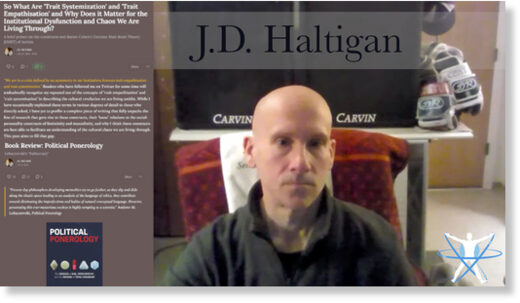 J.D. Haltigan is a developmental and evolutionary psychologist who writes the
Multilevel Mailer
on Substack. His
research
and
writing
focuses on psychopathology, social media-induced mental illness in the young, and the psychological phenomena underlying Woke ideology and the culture wars. Lately he has been writing about the negative effects of traits like
compassion and empathy
when not balanced and held in check by trait systematization. J.D. has also written a
review
of Andrew Lobaczewski's
Political Ponerology
tying its insight to our current sociopolitical situation.
How does a doctor of Developmental and Evolutionary Psychopathology see psychopathology at play within academia - from the inside out as it were? Gender ideology, race differences, the censorship complex, emotional dysregulation, leftwing authoritarianism, 'vulnerable narcissism', the weaponization of compassion, etc. - there is a whole slew of prominent features and developments in academia (and Western society as a whole) that, to the classically trained academic of psychopathology, are hard to ignore. And ignore it he doesn't - even if it means taking a step back and away from some of the institutions he would normally be working within.
This week on MindMatters J.D. Haltigan, PhD, gives us his unique perspective on what's wrong with the woke and culturally Marxist mindset so prevalent today in many of the West's top schools. And using his background and research, delves into such questions as how pathology has become something of an evolutionary strategy, how the most prominent traits of men and women have been skewed and weaponized, and just where political ponerology fits in with all that we're seeing.
Running Time:
01:00:46
Download:
MP3
— 83.5 MB