Researchers say the lack of emergency referrals caused drop-off in diagnoses
University College London report warned thousands will die 'significantly earlier'
Concerns too many people still struggling to get an in-person GP appointment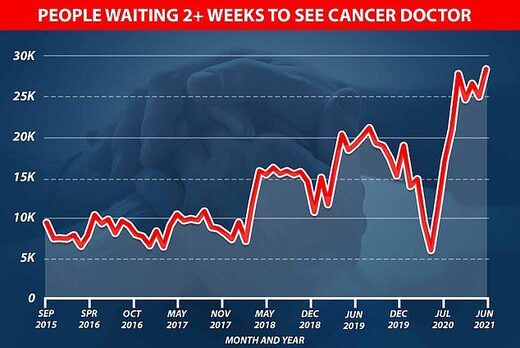 An extra 10,000 people are likely to die of cancer because of the Covid pandemic, a study has suggested.
University College
London
researchers said a drop in emergency referrals from GPs last year across the UK resulted in around 40,000 late diagnoses of the disease.
These delays and longer waits for
NHS
treatment — fuelled by the pandemic — mean thousands will die 'significantly earlier' from the disease than would have been the case pre-pandemic.
The study of more than 2,000 adults found nearly two thirds of people worried about bothering family doctors with 'minor health problems' because of Covid.