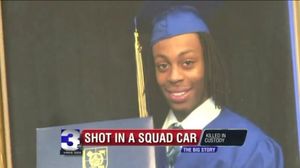 A Mississippi mother is accusing police in Jonesboro, Arkansas of killing her son after he was found shot in the head with his hands cuffed behind his back in a squad car.
A police report
obtained by KAIT
indicated that 21-year-old Chavis Chacobie Carter had been a passenger in a pickup truck when Officer Ron Marsh found "some marijuana" and plastic baggies in his possession. Marsh also determined that Carter had been wanted on a warrant after he missed a court date for drug charges in DeSoto County, Mississippi.
Marsh then had Carter "exit the patrol unit, placed him into handcuffs, searched him a second time then placed him into the back seat of the patrol unit."
Jonesboro Police Sergeant Lyle Waterworth
told WREG
that Carter had been
"handcuffed behind his back and double locked, and searched."