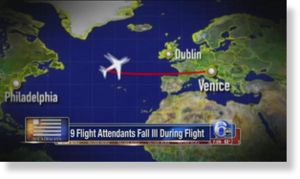 Passengers on a US Airways flight headed from Italy to Philadelphia got an unexpected stopover in Ireland this weekend after several attendants became sick.
US Airways Flight 715 was en route from Venice to Philadelphia on Saturday when it diverted to Dublin after the attendants reported nausea, dizziness and watery eyes, according to The Associated Press.
It was unclear what caused the ailments, but the attendants were given medical clearance by Sunday and were back in the United States as of Monday morning, US Airways spokeswoman Michelle Mohr tells Today in the Sky.