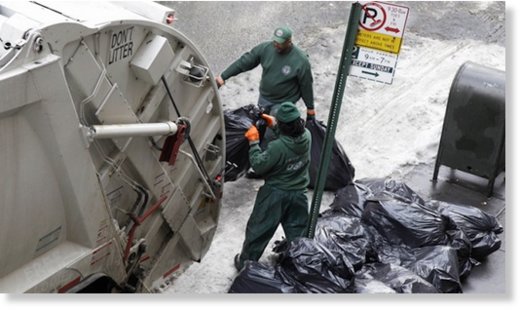 Translated from Dutch by Elizabeth Manton.
How more people are making money without contributing anything of value
Thick fog envelops City Hall Park at daybreak on February 2, 1968. Seven thousand New York City sanitation workers stand crowded together, their mood rebellious. Union spokesman John DeLury addresses the multitude from the roof of a truck. When he announces that the mayor has refused further concessions, the crowd's anger threatens to boil over. As the first rotten eggs sail overhead, DeLury realizes the time for compromise is over. It's time to take the illegal route, the path prohibited to sanitation workers for the simple reason that the job they do is too important.
It's time to strike.
The next day, trash goes uncollected throughout the Big Apple. Nearly all the city's garbage crews have stayed home. "We've never had prestige, and it never bothered me before," one garbageman is quoted in a local newspaper. "But it does now. People treat us like dirt."
When the mayor goes out to survey the situation two days later,
the city is already knee-deep in refuse
, with another 10,000 tons added every day. A rank stench begins to percolate through the city's streets, and rats have been sighted in even the swankiest parts of town. In the space of just a few days, one of the world's most iconic cities has started to look like a slum. And for the first time since the polio epidemic of 1931, city authorities declare a state of emergency.