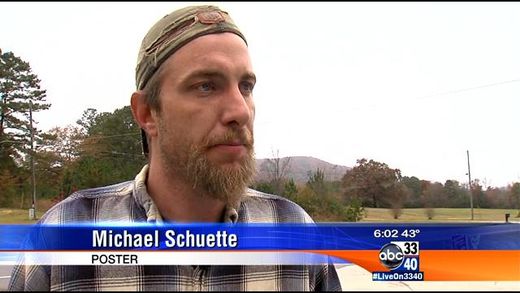 An Alabama gun shop employee is
backing away from controversial remarks
he made in a Facebook post on Veterans Day.
Michael Schuette said he became angry while reading social media comments praising veterans for their service and posted remarks that have angered people all over the U.S.
"OK, for my yearly Veterans Day speech...to all vets...you are NOT hero's," Schuette posted. "
You got paid to learn how to fight and kill for profit. You 'Served' your leader...You followed the rules and made it out of whatever country you terrorized alive
."
"You got a check and a holiday," he continued. "
YOU NEVER FOUGHT FOR ANY OF MY FREEDOMS!!!!! You fought for corporate interests...You never sacrificed for this country...You did so for your government owners...You did nothing for American citizens
...YOU WANNT MEET HERO's???? Well, shake hands with CIVILIAN EMTs, nurses, firefighters, lawyers and anyone in the ACLU...Please feel free to add some more hero's below but Veterans are you NOT American hero's."
The Anniston man said he has received 1,400 emails, 200 text messages, and hundreds of voice mails from military supporters who were upset by his comments.
Some of the messages
pointed out that Schuette's wife owns
Outlaw Gun Repair and Hydrographing
, and he now plans to step down from his position repairing firearms at the shop.
"Next time don't bite the vets hands that feed your freedom of speech....they bite back," one person posted on the company's website.
He eventually took the post offline, although
Yellowhammer News preserved a screen capture
, and said he has been apologizing ever since he posted the remarks.