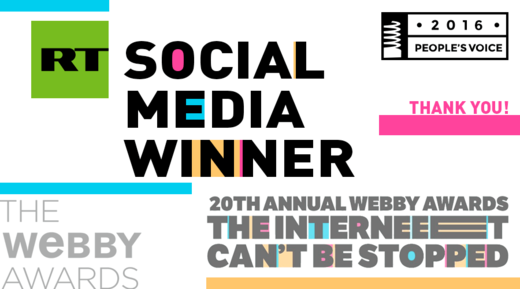 RT Social Media has won its first-ever Webby Award, after beating established rivals in the popular vote for the world's most prestigious internet accolade. And it's all thanks to you!
After three weeks of online voting
, RT scored a confident popular victory over BBC News, the
New York Times
, NBC News & Nightly News, and ABC News in the Social Media News & Information
category
.
"To be nominated in the first place means we're doing things right. To win the People's Voice award - and to win it by a landslide - means our community is engaged and close to us. And we thank every person who voted and brought this victory!" said RT's Head of Online Projects Kirill Karnovich-Valua.
The prize from the judges went to the
New York Times
, which also captured the award for best news website. Notably, it was also
beaten
in the popular vote in that category - by Glenn Greenwald, Laura Poitras and Jeremy Scahill's The Intercept, another relative newcomer.