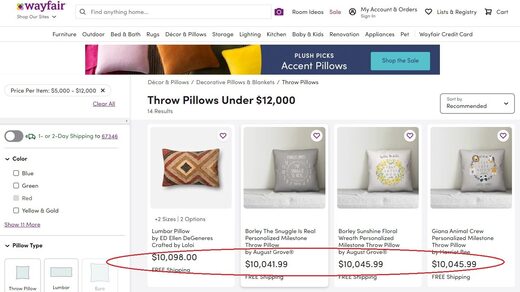 A new conspiracy theory surrounding products advertised by the home goods and furniture seller Wayfair now joins previous unsubstantiated allegations like Pizzagate regarding worldwide pedophilic sex trafficking among the economic elite.
The Wayfair conspiracy theory that became a social media sensation on Friday began with a post to the Conspiracy subreddit, which promotes user-submitted conspiracy theories, many thinly evidenced or unevidenced, to more than a million subscribers.
"Is it possible Wayfair involved in Human trafficking with their WFX Utility collection? Or are these just extremely overpriced cabinets? (Note the names of the cabinets) this makes me sick to my stomach if it's true," redditor PrincessPeach1987 posted on Thursday, alongside a screenshot from Wayfair's mobile website featuring four storage cabinets —
products named Neriah, Yaritza, Samiyah and Alyvia — that cost between $12,699.99 and $14,499.99.