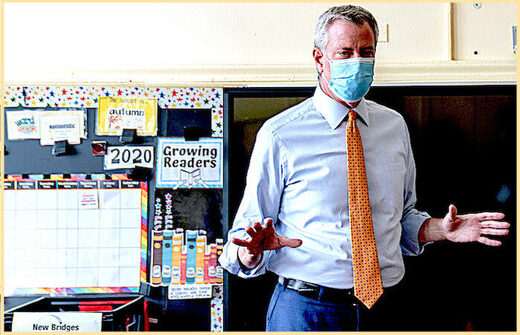 New York City Mayor Bill de Blasio has postponed school reopening for most students a second time, just days before kids were set to return. Parents and teachers who already planned their lives around the schedule aren't happy.
Instead of returning to the classroom on Monday,
elementary school students will come back on September 29,
de Blasio announced in a Thursday press briefing,
enraging parents and teachers alike with the eleventh-hour delay.
Middle and high school students won't return until October 1 under the new schedule.
It's not the first time de Blasio has pushed school reopening dates forward. City students were initially supposed to return to the classroom on September 10, and the mayor repeatedly affirmed the date was set in stone in the preceding weeks, despite pushback from teachers, before postponing it at the last minute.
This time, he isn't even pretending it's a sure thing,
telling reporters "We could always learn something new that might cause additional adjustment." However,
he attempted to shift the blame for the delay onto the teachers' unions,
which had been complaining that schools weren't ready to reopen for weeks.