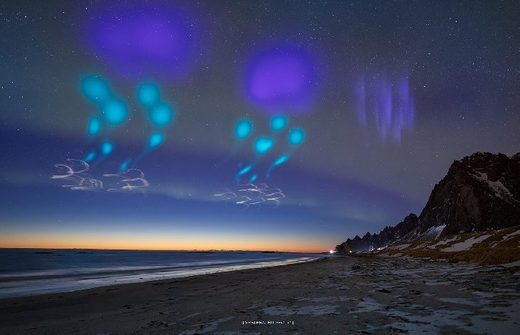 Auroras are spectacular light shows, but a recent display in the skies over northern Norway was out of this world - sort of.
On Friday (April 5), clusters of purple, blue and yellow lights appeared in the country's night sky; as the ghostly shapes hovered, their eerie glow and unusual formation invited speculation about visiting alien spacecraft.
But
extraterrestrials
weren't behind the demonstration. It was NASA, launching a new rocket system from Norway to study the flow of winds in Earth's upper atmosphere, representatives of the agency's Wallops Flight Facility in Wallops, Virginia,
tweeted
that day.
Following the appearance of an aurora that night, NASA created another spectacular light show with chemical compounds, expelled by the Auroral Zone Upwelling Rocket Experiment (AZURE). This is the first of eight rocket missions to launch from Norwegian bases in Andøya and Svalbard. The missions will analyze the interactions of Earth's magnetic field lines and particles from space that bombard our planet, according to
a NASA statement
.