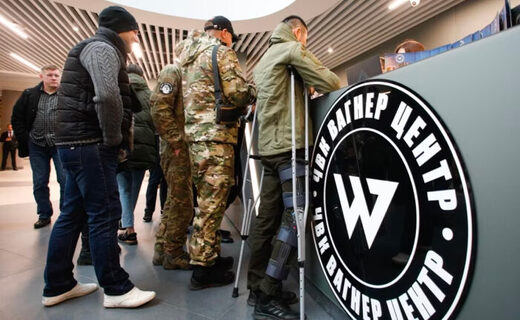 A former fighter from the Wagner mercenary group who was recruited from prison last year has been accused of killing two women and burning their house down after returning home to Siberia from the ongoing war against Ukraine.
Police in the town of Yermakovskoye in the Krasnoyarsk region said on October 3 they had detained Denis Stepanov, who is suspected of setting a house on fire overnight. The two women were found dead inside.
According to the police, the motive for the crime is unknown, but witnesses said the suspect had openly threatened the women.
It's not the first instance of former Wagner mercenaries recruited from jails and prisons across Russia in 2022 being accused of committing serious crimes after completing tours of duty in Ukraine.
In August,
former Wagner fighter Igor Sofonov
and a man with a criminal record, Maksim Bochkaryov, were arrested on suspicion of
stabbing to death five men and a woman and setting two houses on fire in the northwestern region of Karelia.
In May, police in the Krasnodar region arrested
former Wagner fighter Demyan Kevorkyan on suspicion of killing two people.
In 2016, the 31-year-old Kevorkyan was sentenced to 18 years in prison for robbery and creating a criminal group. After he spent several months fighting against Ukrainian forces for Russia earlier this year, he was fully exonerated and returned home, where he was subsequently accused of committing murder.
In May, police in the Siberian city of Novosibirsk arrested a man on
suspicion of raping two underage girls.
Media identified the suspect as
former Wagner mercenary Sergei S.,
giving only the first letter of his last name.
Wagner's late leader, Yevgeny Prigozhin, said in late June that 32,000 former inmates recruited by his group from prison had returned home after being granted clemency as part of their remuneration for taking part in Russia's full-scale invasion of Ukraine.