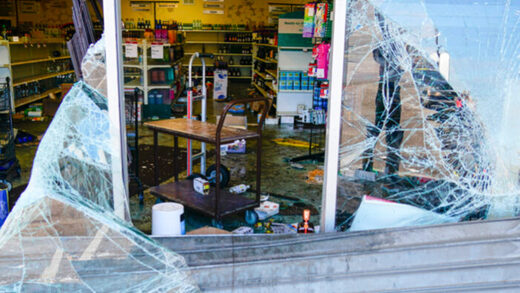 Foot Locker, Apple and Lululemon in Center City were among the stores looted on Tuesday night.
There was an increased police presence in Philadelphia on Wednesday night after a group of looters wreaked havoc on the city. As police added more patrols, businesses across the city closed early. An Aldi in the city's Olney neighborhood had security at its boarded-up property.
"The bottom line is sending a message that Philadelphia is not going to be the place where you can do this type of behavior,"
said Interim Philadelphia Police Commissioner John Stanford.
As police added more patrols, businesses across the city closed early. An Aldi in the city's Olney neighborhood had security at its boarded-up property.
"It's just an excuse for them to act up. Like it don't make no sense. They're tearing up the neighborhoods where we gotta shop at and they gotta shop at," said Jamal Howard of Olney.
Despite the additional patrols, two people were taken into custody after police said they looted a Fine Wine & Good Spirits store in Crescentville.
Responding officers found the two suspects loading up a car at about 2:30 a.m. Thursday. The store was not boarded up, police said.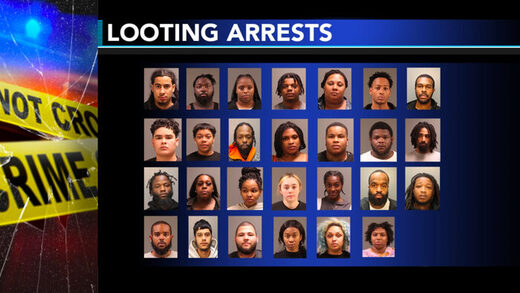 A total of 52 arrests have been made so far and all but three of them are adults,
according to Jane Roh, spokesperson for the Philadelphia district attorney's office.
The chaos started around 7:30 p.m. Tuesday after numerous 911 calls stated a large group, possibly as many as 100, moving through Center City.
Video obtained by Action News captured a group of people taking items out of a Foot Locker store around 8 p.m. on the 1500 block of Chestnut Street in Center City. Several juveniles fled the scene, but at least one adult was arrested, police said.
Subsequent incidents of looting were reported in quick succession. At 8:12 p.m., officers responded to a call of looting at Lululemon located on the 1700 block of Walnut Street. In this case, officers successfully apprehended multiple individuals involved in the looting.
Around 8:18 p.m., a radio call reported looting at the Apple Store on the 1600 block of Walnut Street. No arrests were made at this time in connection with this incident, police said.
The store sustained losses in terms of phones and tablets, although numerous stolen items have since been recovered.
One woman says she was sitting with friends at a.kitchen+bar on 18th Street when she witnessed people ransacking a store.
"I saw a bunch of people like go into the Lululemon, clothes everywhere," she recalled.
A spokesperson for the Pennsylvania Liquor Control Board said 18 Fine Wine & Good Spirits stores in Philadelphia were looted.
On Wednesday, all FW&GS stores in Philadelphia and one in Cheltenham Plaza were closed "in the interest of employee safety and while we assess the damage and loss that occurred," the spokesperson said.
Officials told Action News via email that a decision to reopen any stores on Thursday has not been made.
Police tell Action News the lawlessness is not related to an earlier protest over the fatal
police shooting of Eddie Irizarry.
"What we had tonight was a bunch of criminal opportunists take advantage of a situation and make an attempt to destroy our city,"
said Interim Philadelphia Police Commissioner John Stanford.
Looting extends beyond Center City
Six businesses in a single retail corridor of North Philadelphia were looted, including three pharmacies, a hair salon, a tax preparation company and a cellphone store,
according to the North 22nd Street Business Corridor, a business group.
Benjamin Nochum, the pharmacist and store manager at Patriot Pharmacy, said it was the third time since 2020 his business had been hit.
"When looters steal from us, what they don't seem to understand is that they are also stealing from our neighbors,"
Nochum said in a statement. "It makes you question how much longer you can hang on."
A break-in sent police to a Rite Aid at 53rd Street and Baltimore Avenue in the city's Cobbs Creek section.
A heavy police presence was also seen at 52nd and Market streets. Authorities said several stores in the area along 52nd Street fell victim to looting.
Instead of serving patients
at West Town Pharmacy located at 52nd and Rodman streets,
the pharmacy manager is working to secure the shop.
The Action Cam was there as the building was targeted Tuesday night. A group of looters stole prescriptions, electronics and anything else they could get their hands on.
In the city's Wynnefield section, a car slammed into the Curaleaf store on the 5000 block of City Avenue. It is not known if anything was stolen from that dispensary shop. Lower Merion police, whose jurisdiction is just across street, were called in because Philadelphia police were so bogged down with other calls.
Looters also targeted the JD Sports at the Roosevelt Mall and the T-Mobile store down the street in West Philadelphia. The Action Cam was there as Philadelphia police loaded someone into a police van.
A store called Doll House on Cottman Avenue in Mayfair was also hit. The entire front window was smashed out leaving shattered glass all over the ground. We're told the owner is armed and is now guarding his store.
Police also believe other stores in the East Division along Aramingo Avenue were hit.
How social media played a part
Philadelphia police have arrested a woman accused of encouraging looters while live on social media.
Dayjia Blackwell
, 21, allegedly used her social media platform to encourage people to engage in looting at several locations and is alleged to have engaged in criminal activities herself, according to the district attorney's office.
She is charged with Burglary, Conspiracy, Criminal Trespass, Riot, Criminal Mischief, Criminal Use of Communication Facility, Receipt of Stolen Property, and Disorderly Conduct.
"This person incited a lot of other individuals to do, at one point, what we know, is coordinating a caravan of individuals to go across the city, hitting multiple locations," said Stanford. Video posted to social media showed people hanging out of cars in a shopping center parking lot, appearing to yell directions to one another.
"This destructive and illegal behavior cannot and will not be tolerated in our city," said Mayor Jim Kenney, calling it a "sickening display of opportunistic criminal activity."
Police have vowed to continue making arrests until all of the individuals responsible are brought to justice.
No injuries were reported Tuesday night.
Police say they are extending shifts for officers to make sure they are prepared for any issues through the weekend.