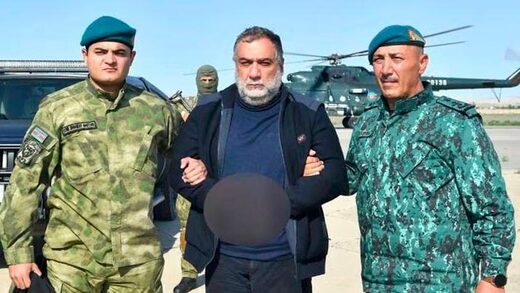 The former head of Nagorno-Karabakh's separatist government was arrested as he tried to
cross into Armenia
on Wednesday, Azerbaijani authorities said.
Ruben Vardanyan
was one of more than 50,000 people to cross into Armenia from the separatist region, almost half of its 120,000 population,
since Azerbaijan lifted its nine-month blockade on the enclave on Sunday.
It marks a
fundamental shift in ethnic control
of lands that had been disputed by mostly Christian Armenians and predominantly Muslim Azerbaijanis for the past century.
Despite Azerbaijan's promises to respect the rights of the region's ethnic Armenians, they have rushed to flee the region en masse, fearing reprisals.
It follows
Azerbaijan's 24-hour blitz
last week to reclaim control of the region,
involving heavy artillery, rocket launchers and drones, which forced the separatist authorities to agree to lay down weapons and sit down for talks on Nagorno-Karabakh's "reintegration" into Azerbaijan.
Mr Vardanyan, a billionaire businessman
who made his fortune in Russia where he owned a major investment bank,
moved to Nagorno-Karabakh last year and served as the head of the regional government for several months
before stepping down this year.
Azerbaijan's border security service said Mr Vardanyan was escorted to the country's capital of Baku and handed over to "the relevant state bodies". It posted a picture of him being held by two border guards next to a helicopter. His wife Veronika Zonabend said on his Telegram channel that he had been arrested while trying to flee. She asked for people's "prayers and support for my husband's safe release".
It was not known on what grounds Mr Vardanyan had been held but Azerbaijan has signalled it will seek to prosecute prominent figures in the Karabakh leadership.
"We have accused elements of the criminal regime and we will bring them to justice," Azeri President Ilham Aliyev said last week, without naming anyone or specifying any crime.
Kremlin spokesman Dmitry Peskov refused to comment on the arrest of Mr Vardanyan, who renounced his Russian citizenship after moving to Nagorno-Karabakh.
Armenia's attempts to absorb the rush of ethnic Armenians come with officials still trying to identify the whereabouts of more than 100 people reported missing in a fuel depot blast on Monday that claimed 68 lives.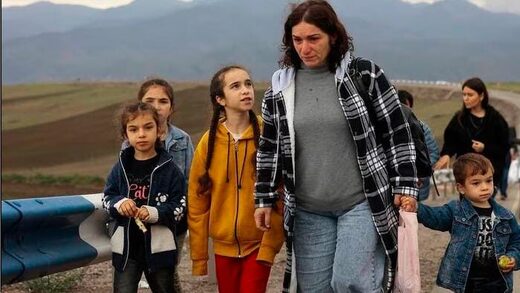 The fireball erupted as refugees were stocking up on fuel for the long drive along the mountain road leading to Armenia.
Azerbaijan's Health Ministry said a total of 192 Azerbaijani troops have been killed and 511 wounded in the offensive in Nagorno-Karabakh. One Azeri civilian also died in the hostilities, the ministry said.
Nagorno-Karabakh officials earlier said at least 200 people on their side, including 10 civilians, were killed and more than 400 were wounded in the fighting.
Azerbaijan's swift onslaught followed a nine-month blockade of the road connecting Nagorno-Karabakh with Armenia.
The Armenian government in Yerevan claimed
the closure denied basic food and fuel supplies
to the enclave's residents, while Azerbaijan countered by alleging the Armenian government was using the road for mineral extraction and transporting illicit weapons to the region's separatist forces.
The Armenian government on Wednesday said it had received
50,243 Nagorno-Karabakh refugees
since Azerbaijan's lightning offensive.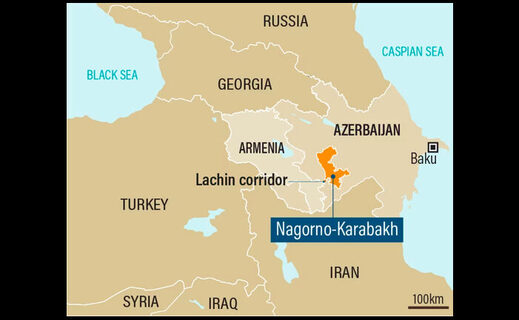 It has prepared living arrangements for 40,000 families since last week's fighting broke out.
Armenian Prime Minister Nikol Pashinyan's spokeswoman said late on Tuesday the government had so far been able to find housing for only 2,850 people.
Western governments fear a humanitarian disaster
and are pressing for Azerbaijan to allow international observers into Karabakh to monitor its treatment of the resident population.
German Foreign Minister Annalena Baerbock posted on X, formerly Twitter:
"What is needed now is transparency and the eyes and ears of the international community on the spot. It would be a sign of confidence that Azerbaijan is serious about its commitments to the security and well-being of the people of Nagorno-Karabakh if it allows international observers."
Independent political analyst Boris Navasardyan said:
"The influx of refugees will have a serious impact on the domestic political situation in Armenia."
The Red Cross and the UN's refugees agency are trying to organise immediate help.
Moscow is now firing daily barbs at Mr Pashinyan for his vow on Sunday to pivot away from Armenia's long-standing alliance with the Kremlin.
Mr Pashinyan has blamed Russia for failing to avert the Azerbaijani offensive and called Armenia's current foreign security alliances "ineffective" and "insufficient".
The comments underscored the extent to which the Kremlin's influence has shrunk across former Soviet republics since it became bogged down in its war on Ukraine.
But
Moscow still has an important military base in Armenia
and has indicated that it will try to keep Yerevan in its sphere of influence.
Russia's Foreign Ministry on Wednesday said Moscow expected "all agreements on developing bilateral co-operation ... to continue to be implemented" in full.