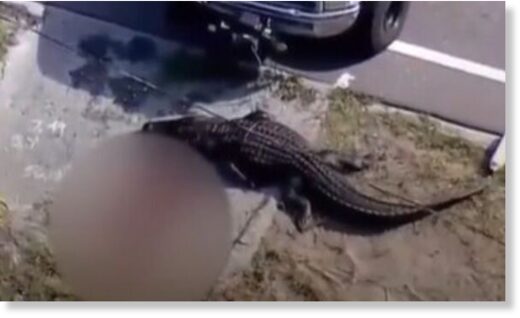 Florida authorities have identified a woman whose body was pulled from a waterway following an alligator attack.
The Pinellas County Sheriff's Office said that 41-year-old Sabrina Peckham was the victim of Friday's attack involving a 13-foot alligator. Peckham was pulled from a canal in Largo after witnesses reported the gator had a corpse in its mouth.
The animal was "humanely killed" and pulled from the canal, authorities previously said.
The sheriff's office said in a
statement
on Sunday that the coroner's office will perform an autopsy to determine Peckham's official manner and cause of death. It is suspected that Peckham was killed by the gator, according to the agency.
Peckham was earlier arrested for trespassing on a wetland area just blocks away from the waterway on 134th Avenue North and 121st Street North where her body was discovered, WESH reports. She was fined $500 over the incident which took place two months ago.
Peckham's daughter, Breauna Dorris, said in a heartfelt
Facebook
post that her mother was a part of the homeless population and lived near the body of water.
"It is believed that she may have been walking to or from her campsite near the creek in the dark and the alligator attacked from the water," Ms Dorris wrote in her post. "No matter how you put it, no one deserves to die like this."
The family has created a GoFundMe page to raise money for funeral costs. More than $4,000 had been raised as of Sunday evening.
Horrifying footage of Peckham's lifeless body was recorded by witnesses before authorities arrived at the scene. JaMarcus Bullard, who first alerted authorities, said that he was on his way to a job interview when he looked towards the lake and saw the horrifying scene.
"I never thought I'd see one like that here, I thought it only happened in swamps but that was a big gator," Mr Bullard told
WFLA
.
Mr Bullard told the network that he threw a rock at the alligator when he saw it holding onto the lower part of the victim's torso. The gator then pulled the body underwater, Mr Bullard said.
He then ran to the local fire station.
Sheriff's deputies and a crew with the Florida Fish and Wildlife Conservation Commission then killed the 13-foot, 8.5-inch male alligator. It was then removed from the water.
Jennifer Dean, who lives in the area where the body was recovered, also told
Spectrum News
that she had previously seen alligators in the waterway — but none as large as this one.