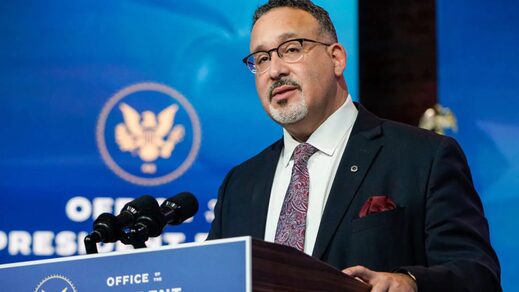 U.S. Department of Education Secretary Miguel Cardona appeared to dismiss some parents who protest at school boards during an Associated Press interview released Friday.
"We can disagree, we can have healthy conversation around what's best for kids. I respect differences of opinion, I don't have too much respect for people that are misbehaving in public and then acting as if they know what's right for kids," Cardona said during the interview.
Attorney General Merrick Garland
called
on the FBI to "use its authority" against parents who "threaten" school officials in board meetings in October 2021. The National School Board Association asked the Biden administration in 2021 to use anti-terrorism laws to restrict parents who voice concerns at school board meetings.
Cardona allegedly
solicited
the National School Boards Association (NSBA) comparing parents at school board meetings to domestic terrorists, according to emails discovered in January 2022.
The letters requested federal law enforcement to "deal with the growing number of threats of violence and acts of intimidation occurring across the nation."
Cardona
refused
to tell Republican Georgia Rep. Andrew Clyde what a woman was during a hearing before the House Appropriations Committee in April.
"Our focus at the department is to provide equal access to students including students who are LGBTQ, access free from discrimination," Cardona responded when pressed by the congressman.
Cardona has
supported
expanding Title IX protections to prohibit schools from protecting girl's sports from male competition, saying he is protecting kids from "elected bullies."