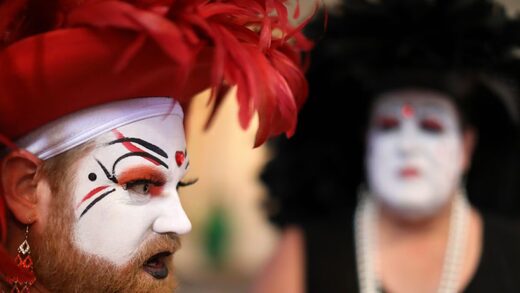 A church in Texas recently held an LGBTQ+ service where several drag queens were blessed, prompting protests from those in opposition outside the church.
On Sunday morning, the Cathedral of Hope in Dallas held a ceremony to bless members of the drag and charity organization, the
Sisters of Perpetual Indulgence
, with church leaders saying during the service, "Drag queens are often targets of hate and violence. But we know that they are often powerful and resilient people who show us what it means to be truly authentic and expressive," the
Dallas Morning News
reported.
In a
Facebook
post accompanying a video of the service, the Cathedral of Hope said,
"The term 'family values' has for so long been code language to support misogyny, homophobia, bigotry, and many other ways of hate and exclusion...Take a journey as we explore values that move towards healthy families, meaningful connections, strong communities, and to see the good news of radical love and mercy embodied in us and our beloved Cathedral of Hope."
The service on Sunday comes amid ongoing controversy surrounding LGBTQ+ rights and the opposition of
drag
queen shows by many
conservatives
. Shortly after the service on Sunday morning, Dallas Pride held its second annual Pride parade.
The Texas legislature recently passed Senate Bill 12, which seeks to criminalize drag show performances in the state if they occur in front of individuals under the age of 18. The bill was signed into effect by Texas Governor Greg Abbott, but, according to the
Dallas Morning News,
it has been placed under hold as of September 13.
While speaking with the
Dallas Morning News
, Cathedral of Hope Senior Pastor Reverend Neil Thomas said that
Senate Bill 12
signals "persecution" of drag queens in Texas and added that "It's a pretty normal, natural thing for us to be vigilant specifically around issues that face the LGBTQ+ community."
In August, Richard Montez, the owner of 360 Queen Entertainment in San Antonio, filed a lawsuit against Texas in response to Senate Bill 12 and told a judge, "Our shows and businesses have the responsibility to stand up for the freedom of speech of marginalized communities," the
Texas Tribune
reported.

Comment: It's pretty bold to suggest "freedom of speech" covers showing adult material to children.


As Senate Bill 12 remains under a temporary hold, many gathered outside the Cathedral of Hope on Sunday to protest the church's service.
"Catholic nuns are something that's very sacred, very beautiful...
For them to mock the purity of nuns, to mock this beautiful institution of the Catholic faith, it's abominable,
" Cesar Franco, a member America Needs Fatima, a nonprofit group, told the
Dallas Morning News.
Newsweek
reached out to the Cathedral of Hope and the Sisters of Perpetual Indulgence via email for comment.