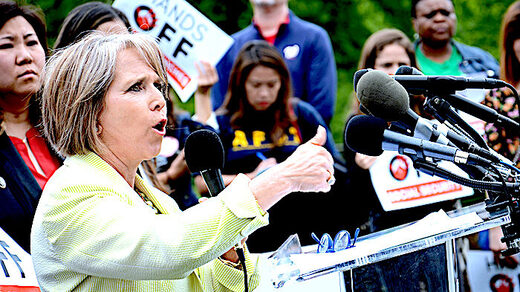 Democratic Gov. Michelle Lujan Grisham on Friday amended an order banning gun possession that was restrained by a federal judge, seeking to narrow its focus to certain areas, according to an announcement on social media.
Grisham's initial order, announced on Sept. 8, banned the possession of firearms outside private property in the city of Albuquerque and its encompassing Bernalillo County
after declaring gun violence a public health emergency, which prompted widespread condemnation, including from gun control advocates. On Friday, Grisham wrote she would be
narrowing the scope of the order to public parks and places where children gather,
according to a post on Twitter, now known as X.
"I have amended the public health order to specify that you cannot carry
#guns
in city parks or playgrounds in Albuquerque & Bernalillo Co. I respect the judge's decision on the last public order, but I am far from done fighting to protect New Mexicans," Grisham
wrote
.
The text of the revised order was not immediately published on her website.
Following the issuance of Grisham's order, five lawsuits were filed against her, leading to a temporary
injunction
by U.S. District Judge David Urias. Democratic Rep.
Ted Lieu
of California and prominent gun control advocate
David Hogg
both claimed that the order violated the U.S. Constitution and was unacceptable,
while New Mexico's attorney general
declined
to defend the order in court.
Grisham's office did not immediately respond to a request for comment.