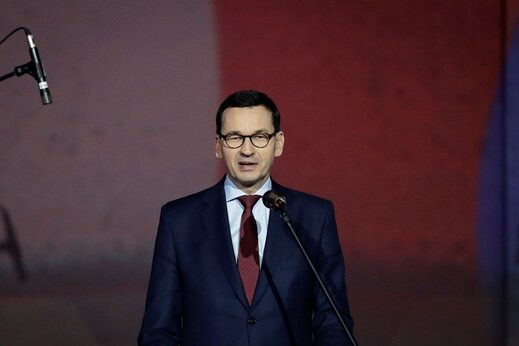 Polish Prime Minister Mateusz Morawiecki stated on Sunday that Poland recorded 16,000 attempts to unlawfully enter its eastern border in 2023 and that Russia and Belarus, in his judgment, masterminded the situation.
During an interview with the Italian newspaper
Corriere della Sera
, Morawiecki said that
"Poland has been under attacks on its eastern border with Belarus for more than two years now. This is a joint plan of Russia and Belarus, who want to destabilize not only our country but the entire European Union."
He further said that Russia and Belarus "cynically used migrants" to undermine Poland's security structures and undermine European partners' solidarity.
Comment:
Does he mean the migrants that have been attempting to flee the West's wars and economic devastation? The same migrants that have been flooding Europe, and with the consent of the EU, since at least 2003? How exactly is that Russia's fault? He is also surely aware that Russia has taken in over 2 million Ukrainians - the most taken in by any country - since the conflict instigated by the West's proxy war?
Is Russia responsible for the tens of thousands of migrants that
reached
UK shores in just the last year? And what
about
the 40,000 that have arrived just in the state of New York?
The prime minister added that
"This year alone, we registered more than 16,000 attempts to illegally cross the Polish border. This is a threat to our state. Ensuring the security of Poland's eastern border, which is the external border of the EU and NATO, is our priority."
Tens of thousands of migrants swarmed the border between Belarus and Poland, as well as neighboring Latvia and Lithuania, in an attempt to reach the European Union in mid-2021. Poland reinforced border controls, sent troops, and accused Belarus of orchestrating the immigration issue.
Minsk denied the charge, accusing Warsaw of exploiting the migration crisis narrative to drive refugees forcibly into Belarusian territory.
Moscow rejected the accusations and stressed that they are nothing more than a European attempt to absolve themselves of responsibility for the situation.
African migrants were
faced with Polish water cannons
on Saturday as they attempted to
cross from Belarus
to the Polish Border Guard.

Comment: The same Africa that the West is threatening to further destabilise via its maneuvering of ECOWAS against Niger?


The statement the Polish Border Guard posted on X, the platform formerly known as Twitter, stated that
"On August 11, 106 people tried to enter Poland illegally, among them
citizens of Congo and Eritrea
,"
adding that "At the border guard station in [the village of] Dubicze Cerkiewne, a large group of 40 people, a group of aggressive foreigners, stormed the border."
Even though "One of them had a knife," and that "they threw stones," the Polish Guard announced that "a Tajfun car with water cannons was dispatched to the place," and that "the crossing of the border was prevented."