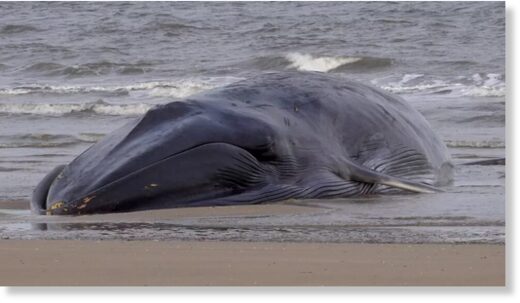 A whale has died after becoming stranded off the East Yorkshire coast.
The 55ft (17m) long creature was confirmed dead off Bridlington's South Beach at around 18:00 BST on Tuesday, British Divers Marine Life Rescue told the BBC.
It was believed to be a male fin whale, the world's second-largest animal after the blue whale.
Bridlington's mayor Mike Heslop-Mullens had earlier urged people to keep away while efforts were made to save it.
On Tuesday afternoon, dozens of people had lined the sea front at South Beach to catch a glimpse of the creature as it thrashed in the shallows.
As rescuers tended to the stricken mammal, Mr Heslop-Mullens said people "should treat it as an animal and not as something to gawp at".
Jordan Grebby, from HM Coastguard, said it appeared that the whale had become stranded on a sandbank in the surf.
The fin whale can grow up to 80ft (24m) and weigh up to 120 tonnes.
They can be found all over the world's oceans, but were heavily hunted during the 19th and 20th Centuries.
According to BBC Look North's environment correspondent Paul Murphy, they were "a very unusual visitor" to UK shores and "not suited" to shallow waters.
A team from the Zoological Society of London's Cetacean Strandings Investigation Programme was expected to arrive on Wednesday to collect samples for analysis, Mr Murphy said.
It would be the responsibility of East Riding of Yorkshire Council to dispose of the carcass, he added.