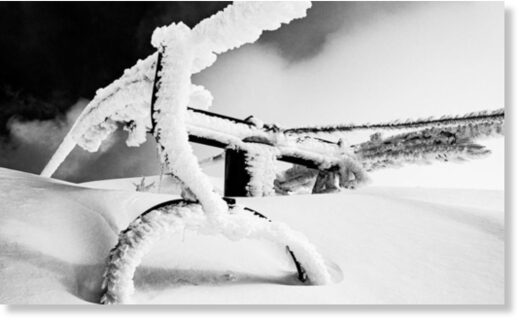 After 30″ of snow overnight, Mammoth Mountain, CA, has officially surpassed its all-time snowfall record, making 2022/23 the snowiest season EVER at Mammoth Mountain.
"With 28-30" of snow since yesterday afternoon, we just blew through our all-time season snowfall record of 668". We've received 695" of snowfall to date at Main Lodge, making the 22/23 season the biggest in our history! 🤯

To our employees, to this community, to all of you who have battled the elements this season - YOU are the stuff of legends. Thank you, thank you, thank you. 💪🏽 It's going to be a legendary spring up here and we'll be open daily through at least July!"

- Mammoth Mountain
The resort has seen 870″ of snowfall at the summit
and currently has a 275-336″ base.
Thanks to the most snow in North America (and likely the world), Mammoth Mountain announced last week that it will remain open for "winter" (skiing and snowboarding) operations through AT LEAST July (no firm closing day has been set).
28″ of new snow since yesterday afternoon and now we can officially say this is the snowiest season on record! This has truly been an incredible year with 695″ of snowfall at Main Lodge and 870″ of snowfall up at the summit. It's deep out there, with all of last night's snowfall it's going to take a lot of work to dig out lifts and safely open the mountain. Main Lodge is on a DELAY this AM. Our goal this morning will be to work to open lower mountain lifts at Canyon and Eagle first, starting with Eagle (15), Chair 8, Schoolyard (17) and Chair 21. We will then work our way to Chair 7, Rollercoaster (4), and up towards Main Lodge as conditions allow. We do not expect Main Lodge, Rollercoaster (4) or The Mill (2 and 10) to open until at least 10 AM. Extensive snow removal will be taking place on all roads and lots - stay 100 feet away from all snow removal equipment and do not park where snow removal is taking place. There is NO uphill skinning today due to avalanche mitigation taking place.

Tamarack Cross-Country Ski Center will be closed today. Woolly's Tube Park and Snowmobile Adventures will have a delayed start until at least 11AM for snow removal.

- Today's Ops Report
Mammoth is the only ski resort on Earth in the 800-club and has North America's deepest snowpack.
Mammoth has only reached 600″ of snow once in the last ten years. In 2016/17, they got 617.5″of snow.
The world record for a ski area is 1,140″ at Mt. Baker ski area, WA, in 1998/99.
Well known for its extended spring seasons, Mammoth has a long tradition of operating well into the summer months but has never announced an extension of this length of time this early in the season. In short, this will likely be the best spring skiing and riding the eastern sierra has ever seen.